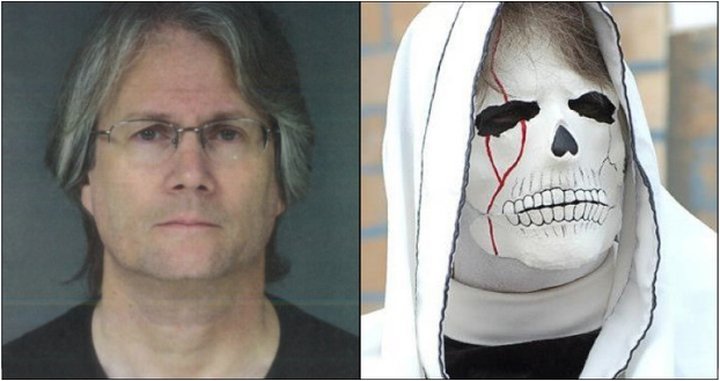 Children's storyteller John Robert "Carpathian" Beideman was sentenced today to 16 years in prison for crimes he swears he didn't commit.

Beideman, 58, pleaded no contest last month to continuous sexual abuse of Jane Doe, who was molested beginning when she was 5 years old. But despite his plea, Beideman read a statement this morning professing his innocence and refusing to admit responsibility.
"I am an innocent man," Beideman said, reading from a written statement. "I'm not guilty of anything."
He said he accepted the 16-year deal despite his innocence, because if he went to trial and the jury believed his accuser, "I would be sentenced to life and left to die in prison."
He described himself as a "law-abiding citizen and a devout Christian" who has been wrongly accused of being a pedophile.
"None of these things ever happened," Beideman said. "The molestation never happened."
As his victim and her family listened from the courtroom audience, Beideman suggested another person molested the girl. "Someone she can't name, so she has to blame me."
Judge Kaleb Cockrum stopped Beideman after he said "This is a cautionary tale to everyone. Just as it happened to me it could happen to you."
"That's enough," the judge ordered, telling Beideman that "Mr. Beideman, I don't think I've seen a more disgusting display."
During the hearing Jane Doe, her mother and stepfather all read statements saying Beideman had done irreparable harm to their family. Doe's mother said Beideman was obsessed with her daughter, preying upon her for 10 years by sending constant gifts, cards and letters. He was asked repeatedly to stop contacting the girl, but he continued.
When law enforcement searched Beideman's apartment after his arrest, they found more than 500 cards and letters addressed to the child. Doe's mother said Beideman told people he was waiting for the girl to turn 18 "so he could tell his side of the story."
In fact, she said, Beideman was "a monster out there lying in wait."
"The father-daughter porn found on his computer was what he had in store for my daughter," she said.
The mother said she hopes prison "helps him feel just a modicum of the fear he's caused my daughter."
Jane Doe, wearing a badge reading "Brave, Loved, Strong," referred to Beideman as the person "who at the age of 5 ripped away my childhood."
The molestation, she recalled, was "accompanied by lullabies and him telling me he loved me."
Over the years she suffered silently, she said, her self-worth destroyed. She developed an eating disorder, cut herself, endured panic attacks and had suicidal thoughts.
"I will need therapy for the foreseeable future," she said. The girl, now 18, said she would have preferred a longer sentence for Beideman but "settled for less" so she could get on with her life and begin to heal.
Both Jane Doe's mother and stepfather said Beideman needs to apologize, but they received no apology. Instead, Beideman said he refused "to stand before God and this community" and admit something he didn't do.
Deputy District Attorney Stacey Eads says Beideman accepts no responsibility because "he has a warped sense of reality. He has held Jane Doe hostage for years."
"Sixteen years in prison doesn't compensate," Eads said, "but rather than put Jane Doe through further trauma we entered into this agreement with Mr. Beideman."
In addition to his role as storyteller Carpathian, who dressed in a scary costume and told children not to fear monsters, Beideman worked for years as a clerk for Humboldt County Superior Court.
The hearing today was packed with Jane Doe's supporters, including about 15 members of the Humboldt chapter of Bikers Against Child Abuse. One of the slogans printed on their jackets is "No Child Deserves to Live in Fear."
Beideman was given credit for 501 days in custody at Humboldt County Correctional Facility. He must serve 85 percent of the remainder of the 16-year sentence. He also must register as a sex offender and is banned from owning firearms for life.
He is represented by attorney Russ Clanton, who did not comment during the hearing.
PREVIOUSLY