PREVIOUSLY
###
A new attorney was appointed today for a convicted sex-trafficker who is charged with new allegations that could put him in prison for life.

Judge John Feeney appointed the county's Conflict Counsel's Office to represent David Bernard Anderson after the Public Defender's Office declared a conflict in the case.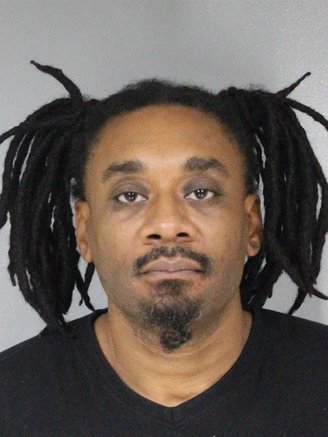 Anderson, wearing the traditional orange jumpsuit and large, black-rimmed eyeglasses, spoke privately for a few minutes with Deputy Conflict Counsel David Lee, sometimes smiling and shaking his head as in disbelief. Several times Anderson looked around the courtroom at members of the audience. After talking with Anderson, Lee told Feeney that for now, he will leave the preliminary hearing set for Dec. 26.
Prosecutor Stacey Eads estimated the hearing will take two hours.
According to the criminal complaint filed against him, the 47-year-old Anderson forced or persuaded a 16-year-old girl to engage in "a commercial sex act." He is also charged with raping the teen twice, forcibly sodomizing her and forcibly engaging in oral copulation with her. It's also alleged that during the commission of these offenses, he administered drugs to the girl.

Anderson was convicted of sex trafficking a 16-year-old girl in Humboldt County in November 2014 and was sentenced to nine years in state prison. But with credit for time served in Humboldt County Correctional Facility, along with good-behavior credits in prison, he served a little over three years. He was released in March of this year.

His latest alleged crimes occurred on Nov. 7 and Nov. 8. The girl must have reported the attacks immediately, because Eureka police arrested Anderson on Dec. 11 after what they described as a more than month-long investigation.

Anderson is being held on $3 million bail.
###
In other court news, today Judge John Feeney granted a defense request to delay setting the preliminary hearing for Lorna Jean Leen, accused of killing a Eureka teenager who was stabbed to death at Oceanview Cemetery on Aug. 9.
Deputy Public Defender Rebecca Linkous, representing Leen, told Feeney she is "in the process of examining records that are crucial to Ms. Leen's defense (regarding) the cross-examination of witnesses."
Last month Leen's preliminary hearing was abruptly canceled over a dispute about the testimony of teenage girl who is expected to be a witness for the prosecution. The County Counsel's Office is representing the girl and has filed a motion seeking to limit what she can be asked while on the stand.
Leen and her 15-year-old son are charged with murdering 16-year-old Brandon Brocious, who died from a stab wound to the chest. Leen's son, who is being tried in Juvenile Court, is accused of murder and personal use of a knife. Leen is charged with a single count of murder.
Brocious had befriended the mother and son, who were homeless and camping near the Bayshore Mall.
Today Feeney set Leen's next court hearing for Jan. 24, when a date for the preliminary hearing may be set.
Brocious' mother, father and stepfather attended the hearing this morning.
The 38-year-old Leen and her son were arrested within hours of the killing and remain in custody.
###
PREVIOUSLY