A horizontal dirty mark on Eric Lively's windshield was made by Jesse Simpson's weed-whacker, an accident-reconstruction expert testified Wednesday, the 10th day of Lively's murder trial.

Steven Walker, hired by the defense, estimated Lively was driving 20 mph when his Toyota pickup truck struck Jesse Simpson at the intersection of Debbie Lane and Eileen Road in Shelter Cove on May 3. Walker said Simpson was hit with enough force to damage the truck's left headlight and crumple the hood, but not with enough force to throw Simpson onto the hood.
"The weed-whacker got in the way," Walker said.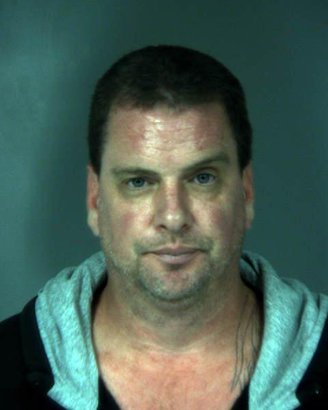 Simpson was walking from west to east, he said, presenting his left side to Lively's southbound vehicle.
Walker's conclusion bolsters defense attorney Russ Clanton's assertion that Simpson jumped out in front of Lively's pickup truck, swinging at him with the weed-whacker. Prosecutor Adrian Kamada has said Lively deliberately ran over Simpson as he was weed-whacking a neighbor's grass.
Walker testified after Lively himself finished his time on the witness stand, continuing to deny pretty much everything prosecution witnesses have said about what he said and did. Those witnesses included his own teen-age daughter, whose testimony he described today as "misconstrued, to be honest with you."
Kamada thought it significant that Lively, in making his original statements to authorities, never mentioned that Simpson swung at his truck with the trimmer.
"Now that you're on trial for murder you're claiming Jesse Simpson struck your truck with a weed-whacker," Kamada told Lively.
Lively said there were a lot of "fine details" that weren't discussed. He said he told the California Highway Patrol that Simpson had jumped out in front of him, but apparently didn't mention the weed-whacker detail.
Lively said the first CHP officer on the scene "ruled it was an accident" and told him he could go home. Then he was called back to make a statement and arrested.
Kamada asked Lively about his reported statement to officers that "When I hit Jesse I didn't think I'd be charged."
"Did you not think you'd be charged because the last time you hit someone with your truck you weren't charged?"
That raised an objection from Clanton. Then Lively went on to deny the entire statement by prosecution witness Trampus Danhaur, who said Lively arrived at his house in Shelter Cove screaming death threats, then drove at him with his pickup truck. Danhaur said he managed to spring off the truck's hood with his hands.
Kamada asked if it was true Lively brought a baseball bat with him to Danhaur's house.
Lively laughed, as though that idea was ridiculous.
"No sir," he said.
Kamada pointed out that at the time, in 2013, Lively told a sheriff's officer he brought a baseball bat with him for protection. Lively said he never told the officer that.
Several people have said Lively talked about killing his neighbors, Jesse Simpson and his brother Thomas Simpson. He has denied making those statements. Today Kamada produced copies of a message Lively sent on April 29, four days before Jesse Simpson was killed, to his ex-girlfriend Crystal Worthy. He believed Worthy was conspiring with the Simpsons to steal from him.
"Die for lying, die for cheating, die for robbing," the message said. "Thomas fucked you this morning. You will both die soon."
Lively believed Worthy was having sex with a number of men, including Thomas Simpson. One witness testified that Lively also thought she was sleeping with Jesse Simpson. He said he doesn't recall suspecting that, but since he had accused her of cheating with so many men, it could have happened.
After Lively's truck hit Simpson, he first tried to help him, then drove to the Shelter Cove Fire Department before going home and grabbing water and a towel. His teen-age daughter Emma testified that her father told her not to call the police and unplugged the phone.
Lively testified he had no time for telling her not to call police, and it would not have made sense because the authorities had already been called. He also had no time, as she had alleged, to wash blood off his hands and unplug the phone.
The day of the fatal collision, Lively first called the Sheriff's Department to report a confrontation that morning with Thomas Simpson. He initially claimed Simpson had jumped out of the bushes at him, then changed the story to say Simpson had pulled onto a one-lane bridge and refused to let him through.
Lively acknowledged today that after the collision he told police Jesse Simpson was briefly conscious and talking. On Wednesday he said he now realizes that was impossible.
"I think I was pretty much out of my mind at that time," Lively testified. "I thought I had heard Jesse say he wanted to go home."
During the day Lively left his construction job in Ettersburg to drive home to Shelter Cove. He says he and his boss went there to pick up some hash and marijuana that one of his co-workers was going to sell for him. While there, he says, he found his bedroom door ajar, his safe open and $3,000 missing. He called the Sheriff's Department to report the theft. As he was making his complaint, he saw Jesse Simpson mowing his brother's lawn next door.
Responding to questioning by Kamada, Lively acknowledged he believed Thomas Simpson was stealing from him.
"I believe Thomas was able to work in collusion and assist people in robbing my house," Lively said.
As for Jesse Simpson, Kamada asked whether it was true Lively believed he had stolen $3,000 from him just a few hours before he was killed.
"Yes," Lively said.
Testimony was expected to continue today before Judge Christopher Wilson, with Clanton calling more witnesses for the defense.
###
PREVIOUSLY: