The defense will challenge the state's determination that murder suspect Hector Godoy-Standley is now competent to stand trial on charges that could put him in prison for life.

Godoy-Standley, 22, is one of five people charged with a December 2016 murder and carjacking near Manila. Local psychiatrist Dr. Andrew Renouf evaluated Godoy-Standley and found he was developmentally disabled, and last fall he was transferred to Napa State Hospital for treatment. Doctors there say he is now competent, and they sent him back to Humboldt County.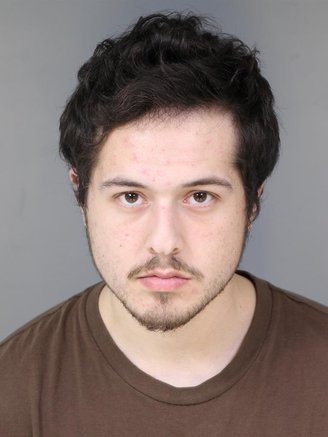 "We are contesting the finding," attorney Sara Zalkin told Judge Dale Reinholtsen this morning. Zalkin, making a special appearance for attorney Russ Clanton, said the state's report has been forwarded to Dr. Renouf for review.
"We are requesting a hearing on this matter," she said.
This morning's hearing was set for Reinholtsen to certify the state's findings and set a trial date for Godoy-Standley. But after hearing from Zalkin, the judge scheduled a May 29 court date for more discussion.
Three other defendants are scheduled for separate trials on charges of murder, carjacking and weapons allegations. Brandon James Mitchell, 23, is the person accused of shooting 20-year-old Tyson Eduardo Claros to death during the carjacking. Tamara Nicole Thomson, 20, and her 24-year-old boyfriend Cesar Octavio Valenzuela allegedly helped, with both of them packing guns. And Catherine Lynn Suzanne "Catie" Fode, 20, the mother of Mitchell's young daughter, has agreed to testify against her co-defendants in exchange for pleading guilty to voluntary manslaughter.
Godoy-Standley was Fode's boyfriend at the time of the shooting, and reportedly was driving the car used in the crime.
Both Thomson and Valenzuela told sheriff's detectives that Fode and Mitchell believed Claros had molested their daughter, who was 3 years old at the time. Claros was investigated but never charged, so Fode and Mitchell allegedly decided to take matters into their own hands. Thomson was a close friend of Fode's, though apparently Valenzuela barely knew the others involved.
Thomson told detectives she had no idea Claros was going to be killed. She said the plan was for him to be beaten up. Instead, he was shot multiple times and left to die on State Highway 255. The alleged killers left behind one eyewitness, the woman who was driving the car Claros was riding in. She was able to identify Thomson on Facebook, and the others were arrested over the next several days.
###
PREVIOUSLY: