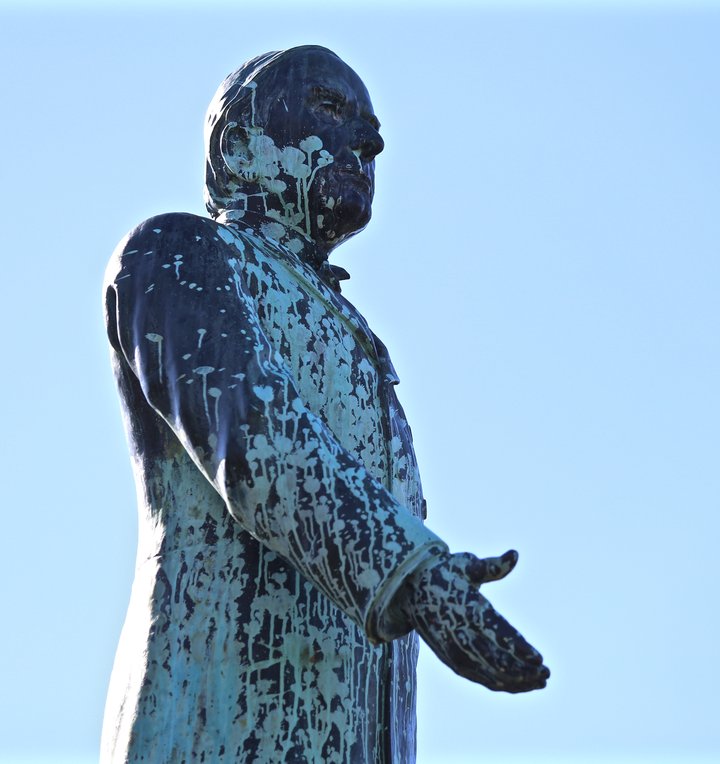 Sometime early this morning or late last night, someone sprayed the statue of President William McKinley in the Arcata Plaza with a liquid substance that ate into its patina, leaving the statue marred with unsightly blotches all over.
Arcata Police officer Heidi Groszmann tells the Outpost, at the scene, that officers discovered the act of vandalism this morning. They were down here on regular patrol when a citizen pointed it out to them. Groszmann said that there's no word yet on what substance was employed on the statue, and no leads on the perpetrator or perpetrators yet.
The McKinley statue, which has stood in the Plaza for a century, has been the subject of much controversy, intermittently, for almost that long. Earlier this year, following a series of heated meetings during which statue opponents decried the imperialist tendencies of our 25th president, the Arcata City Council voted to remove it from the Plaza.
Later, statue proponents succeeded in putting a citizen's initiative to retain the statue on this November's ballot, where it appears as Measure M.
###
PREVIOUSLY
###