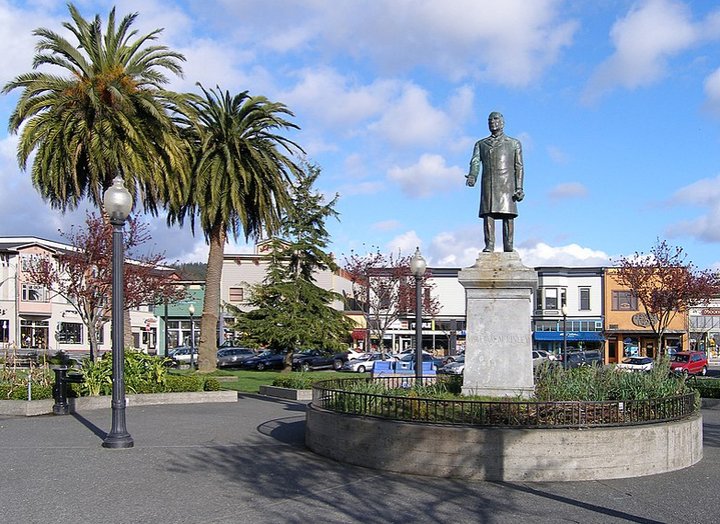 The highly controversial issue of removing the McKinley statue from the Arcata Plaza will now be the decision of Arcata voters.
An initiative called "Keep McKinley Statue in Arcata Plaza" has qualified for the ballot, County Clerk-Recorder Kelly Sanders confirmed to the Outpost today.
The group "Let the people vote on our McKinley Statue" posted to Facebook yesterday:

The Arcata City Council voted 4-1 to remove the statue in February, with City Council Member Michael Winkler dissenting because he believed the issue should be put on a ballot for a vote by Arcata residents.
Winkler told the Outpost today that he was contacted by various citizens who also thought this statue's fate should go to a community vote. Winkler took a lead role in initiating the measure, and even gathered signatures door-to-door. He is happy to see the hard work pay off.

"Rather than be made solely be city council, this is a decision the citizens should make," Winkler said. "So that however this goes, the community feels that they participated."
Councilmember Paul Pitino made the motion to remove the statue at the February 22 meeting. Pitino still strongly feels that removing the statue is the right thing to do, and he hopes voters will feel the same way. He is concerned some of the people who want the statue removed but don't live in Arcata may not be fairly represented in a vote.
"Sometimes voting is a narrower democracy than having your representatives make the decision," Pitino told the Outpost today. "This is one of the unmitigated parts of having a vote on it. It will be the will of the people, without having the most affected people able to vote. If the tribal peoples could vote it might be a little more fair."
The Arcata City Council will address the initiative measure at City Council meeting July 11 at 6 p.m. at Arcata City Hall, 736 F Street.
###
PREVIOUSLY: