After about eight hours of deliberation, a jury has convicted William Lamar Hinson III of voluntary manslaughter for the July 2015 killing of Khanh Lam during a fight in a Garberville alley.
Hinson, 41, appeared relieved when the clerk read the verdict of "not guilty" to second-degree murder. He showed little reaction as the next verdict was read: guilty of voluntary manslaughter and the special allegation of personal use of a deadly weapon. In this case, it was alleged Hinson struck Lam over the head with a board.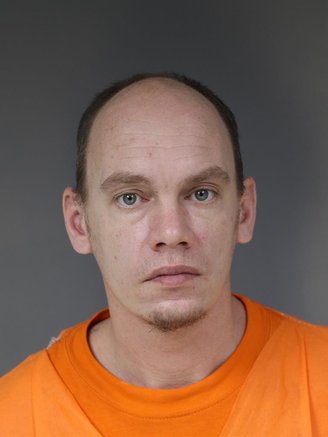 Jury foreman John H., who asked that his full name not be published, said the jury found Hinson not guilty of murder because it was obvious he was provoked.
According to trial testimony, Lam was attempting to kidnap a child out of a van and was punching the child's mother in the face.
Lam was approached and shoved or hit by HInson and Ray Preschern, but he continued to fight.

"He could have backed off but he kept coming back for more, coming back for more," John H. said.
The jury also saw no evidence that Hinson had an intent to kill Lam, he said.
Jurors also heard testimony that Lam, 37, had a potentially toxic level of methamphetamine in his system.
Asked whether jurors believed Hinson's testimony that he left the town square before the fatal altercation, John H. said initially "there was doubt."
"But we reviewed the videos and the timelines and we basically came to the conclusion that he was there."
Two eyewitnesses to the deadly assault provided dramatically different accounts: Reginald "Green Man" Newman said he watched as Hinson used a golf-club swing to hit Lam in the head while he was down. Kenneth "Kenny" Hunt testified he saw Lam, enraged, charge at Hinson like a bull. HInson struck lam in self-defense, Hunt said.
"We had to look at the consistencies and look at the inconsistencies," John H. said. "The consistency was Bill Hinson striking him in the head."
He said jurors believed Hinson was not the only one responsible for Lam's death, "but he was the only one on trial."
Jurors also had the option of finding Hinson guilty of involuntary manslaughter, but didn't think that verdict was appropriate.
"It's just the premise of involuntary manslaughter," John H. said. "It just didn't fit the parameters of involuntary manslaughter."
California law defines involuntary manslaughter as killing someone while "committing a crime that is not an inherently dangerous felony, or while committing a lawful act that might produce death, without due caution."
Hinson's maximum penalty for voluntary manslaughter and use of a weapon is 12 years in state prison. He also is eligible for probation plus jail time, or lesser prison terms of three or six years. He has already been behind bars for two years and three months.
Lam had been traveling from his home in Georgia to Legoland in Southern California when he stopped in Garberville because his truck broke down. It's unknown why he accosted a family of strangers sitting in a parked van near the Garberville town square. At the time he was reportedly looking for his lost dog.
Testimony in the trial began in late January.
###