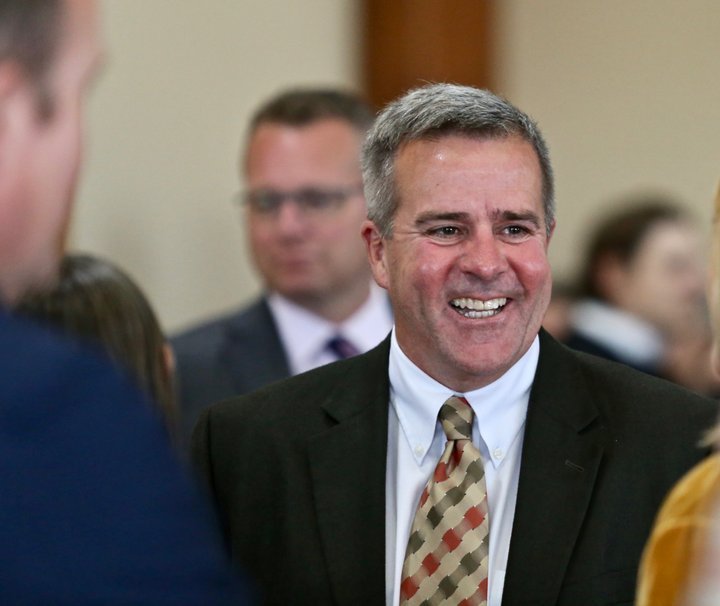 PREVIOUSLY:
###
After serving as Eureka's interim city manager for the past five-and-a-half months, Miles Slattery is about to be offered the job for real. And he plans to accept.
The agenda for Tuesday night's Eureka City Council meeting includes a resolution that would authorize Mayor Susan Seaman to execute an employment agreement with Slattery, who previously worked as the city's Parks and Recreation director and, most recently, its Community Services director.
The timing here is interesting. Tonight's meeting will be the last one for councilmembers Austin Allison and Heidi Messner, neither of whom ran for reelection. Newly elected councilmembers Scott Bauer and Kati Moulton are set to be sworn in at the Dec. 15 meeting.
Also of note: The employment contract is on the consent calendar, meaning the resolution is set to be adopted without public discussion.
Here's how that happened: At the end of the council's Nov. 3 meeting, Allison suggested he and his colleagues should discuss offering Slattery the full-time job at the next meeting, on Nov. 17.
"I personally feel that Miles has [done] a fantastic job … and I don't think we can find a better person currently," Allison said via Zoom at the Nov. 3 meeting. "I think it is important that we act sooner than later as I don't think it's fair to keep people in interim roles for too long who want the full-time job."
His fellow councilmembers said they were willing to talk about it. However, since Slattery's employment is a personnel matter, the Nov. 17 conversation took place entirely in closed session, which means the councilmembers can't talk about it.
When reached by phone Tuesday afternoon, Allison said he and the rest of the council have "come to an agreement." Asked why he wanted to help make this important hiring decision himself, rather than leaving it to the newly elected council, he responded, "basically because I feel like I've worked with Miles for the last four years."
For the new council members, he continued, "it's going to take a lot of time to make the connection I've made with [Slattery] and other staff members and sort of understand the history. I want to set the new council up for success, and Miles will do a really good job of working for the city."
Last time the city hired a new manager, just over a year ago, council and staff had conducted a nationwide search and extensive interview process, only for the winner — a Minnesotan named Dean Lotter — to fizzle out and bail after barely four months.
This time? No interviews and no new search.
Reached by phone Tuesday afternoon, Slattery, who was one of five finalists for the city manager job last time around, said it's not uncommon for the city to return to an established, ranked list of candidates rather than initiate a new search — whether the vacancy is for the city manager or a custodian.

"We hold on to [the list] for a period of time so we can always go back," he said.
Allison believes that's the right approach following the Lotter debacle. "I don't think we should look for external candidates for some time," he said ruefully. "I'm totally a believer in hiring from within and allowing candidates to climb the ladder so they really understand and know the city well."
The employment contract for Slattery includes an annual base salary of $162,000, plus benefits. That's about $5,500 more than former Eureka City Manager Greg Sparks made in 2018, the most recent data available via Transparent California, but it's less than the $170,000 contract signed by Lotter.
Asked about his priorities as city manager, Slattery said, "Economic development is more important than ever." He feels the city has adapted well to the challenges wrought by the COVID pandemic, helping local businesses with grants to see them through while working on an economic development strategic plan that's now being reviewed by local chambers of commerce and other agencies.
With new revenue due to flow in thanks to the passage of Measure H, which will replace an existing 0.5 percent sales tax with a 1.25 percent sales tax, Slattery said there should be more money for roads, public facilities, public safety and quality-of-life projects such as the Redwood Sky Walk at Sequoia Park and the waterfront trail.
Asked if he'll accept the job offer, Slattery chuckled and said he will.
"I just want to thank council for considering this and also want to thank the community for supporting the city," he said. "I think we've come a long way over the last five, six years, and I want to continue that [trajectory] so we're not only the county seat but we're also leading in out-of-the box thinking, making [Eureka] a great place to live and a great place to do business."