Witnesses not interviewed. Fingerprints not taken. Tire tracks not analyzed.

Today Brandon Head, lead detective in the Ryan Anthony Tanner murder case, spent hours being grilled by defense attorney Russ Clanton on perceived errors and omissions in the investigation that led to Tanner's arrest.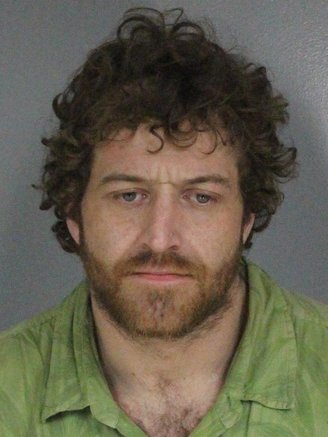 Although some of the issues were minor, such as law enforcement not searching for murder victim Jason Todd Garrett's dog, Head admitted under cross-examination that no evidence was found showing Garrett was ever in Tanner's house. The detective also said that although information he received from eyewitness Christopher Champagne had turned out to be trustworthy, Champagne's testimony during the preliminary hearing was troubling.
"Did his testimony cause you to doubt his reliability?" Clanton asked.
"Yes."
Among other astonishing statements he made on the witness stand, Champagne said the cabin where Tanner shot Garrett to death had been transformed into a torture chamber. He also testified he saw Tanner shoot six police officers and set their bodies on fire.
Champagne says he saw Tanner set fire to the van Garrett had been living in with his friend Natalie Pierce, then kidnap Garrett, cut his throat and shoot him with an AK-47 rifle. Garrett's body was found buried under a water tank on Tanner's property. Champagne provided law enforcement with the locations of the cabin where Garrett was killed and the site where he was buried.
Today Clanton brought up an episode in which Champagne arrived at the home of neighbor Howard "Trey" Wease and presented him with a knife. Champagne then informed Wease the knife had been used to stab someone. Wease told law enforcement he threw the knife out of a window of his house, and it was found later by a woman, "Rose," who asked if she could keep it.
Head acknowledged no effort had been made to track Rose down. He said Wease had told him he was going to try finding her.
Problem is, at the time of the murder and Tanner's arrest, Head was not the lead investigator and was just taking orders from superiors. He has been the lead investigator for only two months, replacing the former detective who had the job. No details were given about the personnel change.
Another item Clanton asked about today was the piece of clear plastic found wrapped around Garrett's body. Champagne has said Tanner forced him to wrap the body in a shower curtain. Head testified today he believed the plastic remained with the body when it was placed in a body bag. But he doesn't know where it is now and says it was never examined.
Also, in the cabin where Garrett was killed, investigators found a 7.62-caliber shell casing. Ammo of the same caliber was found in Tanner's house, but no comparisons were done. The cabin was burned to the ground shortly after the killing. Investigators found a fuel tank and a gasoline can on nearby property, but they were not taken as evidence.
Also testifying today was sheriff's Deputy Justin Pryor, who was one of the first officers to interview Champagne. Pryor's account of what Champagne told him was similar to Champagne's testimony during the hearing, minus the torture chamber and the officers being killed and burned.
One aspect that differed, though, was the throat-cutting incident. During his testimony, Champagne said blood was squirting from Garrett's neck and his Adam's apple was dangling out. But he told Pryor that Tanner slashed Garrett's throat on the left side, and while the wound was not bleeding copiously, there was enough blood to stain his shirt.
That version makes more sense, given that after his throat was cut Garrett reportedly ate, conversed and watched a movie at Tanner's house.
Tanner was reportedly enraged about people stealing from houses in the neighborhood. One of the chief suspects in Tanner's mind was Natalie Pierce. She and Garrett were stranded in the rural area because her van had flat tires.
According to what Champagne told the deputy, when he and Tanner drove up to the van, Tanner said he didn't believe Garrett was a thief "but we should kill him anyway."
Garrett, 26, reportedly was killed Feb. 12 in a cabin on Crooked Prairie Road in the Ettersburg area. The 33-year-old Tanner was arrested by SWAT six days later.
Testimony is expected to continue Tuesday morning before Judge John Feeney.
###