Homicide suspect Demetrius Coleman has been held to answer on a charge of murder, but Judge Timothy Canning ordered that related charges against Coleman's girlfriend be dismissed.
Canning made the ruling Tuesday after listening to several hours of testimony in the preliminary hearing for Coleman, 40, and his 23-year-old girlfriend Alma Ahumada Mendoza. The judge said the prosecution failed to make a case against Ahumada Mendoza and called the evidence against Coleman "not strong."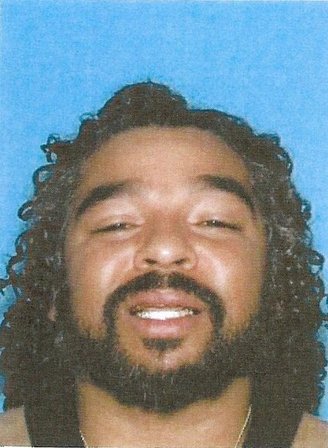 Coleman is accused of fatally shooting 26-year-old Johnny Mack Renfro, who had pulled his blue Jeep to the curb in front of 70 Monument Road in Rio Dell the evening of Aug. 29, 2019.
According to testimony, Renfro was on his way to visit a marijuana dealer who lived around the corner.
"You can see the blue Jeep come to a stop," Rio Dell police Sgt. John Beauchaine testified in describing the scene captured on video. Beauchaine said Renfro got out of the Jeep, opened the back door and began changing his clothes. A green Honda coupe drove by.
"(Renfro) begins to walk back to the driver's side door," the officer said. "The Honda drives by again and the driver starts shooting. One of the bullets breaks out a window (the rear window of the Honda) and strikes Mr. Renfro. He falls down immediately and then gets up."
When police arrived three minutes after the shooting Renfro was on the ground, a trail of blood leading from the Jeep to his body. He had been shot once in the abdomen, with the bullet passing through him. Renfro was still breathing but was unconscious, and he bled to death.
Witnesses at the scene described the shooter as a black man with "longer hair," Beauchaine said under questioning by Deputy District Attorney Carolyn Schaffer.
One witness told investigators she was stopped at a stop sign and a green Honda with a broken rear window swerved around her, running the stop sign and then speeding away.
After the shooting, Coleman allegedly drove to home of an Alton couple he knew, telling them he needed to drop off his car. According to the woman who lived there, Coleman "said he'd been robbed and somebody had shot at him and he needed a place to leave the car."
Coleman also made a statement that worried the woman, something like "when three people know something it's best if two of them are dead."
A few minutes after Coleman arrived, Ahumada Mendoza drove up in a silver Jeep with out-of-state license plates. The two of them left in that vehicle.
Although the couple denied being in the marijuana business, later both Coleman and Ahumada Mendoza told law enforcement that Coleman had been in the middle of "a million-dollar deal" with them.
Beauchaine testified that when the woman heard about the Rio Dell shooting, she called her father, who came and took the green Honda to his home near the top of McClellan Mountain. He reportedly thought about getting rid of the car but instead called police. They traced the Honda to Coleman's estranged wife, who told them he had the car "somewhere in Humboldt County."
The Honda is probably the most incriminating item of evidence, along with the testimony of Ahumada Mendoza's friend Mariah Acosta. She was in the car with Ahumada Mendoza as she followed Coleman to Rio Dell. Coleman was following a blue Jeep.
According to testimony, Coleman had been robbed of marijuana at some point, and he believed one of the robbers drove a similar Jeep.
During the ride, Acosta told investigators, Coleman and Ahumada Mendoza were speaking by cellphone. Acosta heard Coleman repeatedly say "You know what to do."
According to Acosta, Ahumada Mendoza pulled over in Rio Dell, got out of her car and took something from under the hood. She walked away, handed something to Coleman, then came back. Then they heard three "pops" and Ahumada Mendoza said "Oh shit. Oh shit."
Another man, who lived on Monument Road, told police he was looking out his window and saw a green Honda drive by, then stop and back up. A dark-haired woman with a "fat face" approached the car and stood next to a rear window. Then the woman left and the Honda drove away. After the car took off, the man heard gunshots. He went outside and saw Renfro staggering up the driveway at 70 Monument Road.
Coleman and Ahumada were caught and arrested in North Dakota about five months later. Coleman was charged with murder and Ahumada Mendoza with being an accessory. Ahumada Mendoza is out of custody and was in the courtroom Tuesday next to her attorney, Thomas Feimer. Coleman also was in the room, sitting in the jury box in his orange jumpsuit.
The problems for the prosecution include: no murder weapon recovered, no bullet recovered, no positive identification of Coleman except by Acosta. Rio Dell police searched a storage unit rented by Ahumada Mendoza and found two guns and an empty gun box designed to hold a 9mm Glock, but it can't be established that a 9mm gun was ever in the box. The doctor who performed Renfro's autopsy said he may have been hit by a 9mm bullet, but that was a guess.
During her closing statement, prosecutor Schaffer said the evidence showed Coleman and Ahumada Mendoza followed the Jeep to Rio Dell, and that after Renfro parked his Jeep, Coleman circled the block twice, and during that time got a weapon from his girlfriend.
"Although Ms. Acosta could not say with certainty what it was that Ms. Ahumada Mendoza retrieved from the hood of the car, and Ms. Ahumada Mendoza says it was marijuana that she gave to Mr. Coleman, given the circumstances I think it's fair to say that in fact she passed him a firearm."
Although no motive for the killing was established, Acosta said Coleman was concerned about three men in a blue Jeep Liberty with a tire on the back, which matches the description of Renfro's vehicle. Schaffer said the suspected motive was "retaliation for a robbery."
Schaffer noted the witness who saw the green Honda fleeing the scene picked Coleman from a photo lineup as the possible suspect. Ahumada Mendoza admits she was in Rio Dell and opened the hood of her car.
"The defendants were both present at the scene of the homicide, they worked together, and following the homicide took steps to hide the evidence, namely the suspect vehicle, and Ms. Ahumada Mendoza assisted Mr. Coleman by providing the firearm, but certainly by picking him up."
Coleman's attorney, Andrea Sullivan, argued the evidence presented was not enough to establish probable cause, and the judge would have to speculate about evidence not presented in order to hold Coleman to answer.
Sullivan pointed out there is no murder weapon and no information on the caliber of the gun that killed Renfro.
"And that's just the state of the evidence," Sullivan said. "There was a fragmented bullet and no weapon recovered. There was a subsequent search of a storage locker associated with the co-defendant, months later."
Sullivan said it's not even known whether the unit was locked, so to decide the missing gun was the murder weapon "would be complete speculation."
Assuming Coleman did drop the Honda off in Alton, Sullivan said, it wasn't Coleman who tried to hide the car.
"[The Alton woman] asks her father to get rid of the Honda. There's no evidence that Mr. Coleman took that act at all."
Sullivan described the eyewitness accounts as problematic, given that the Honda driver was described as a black man with dreadlocks. When Coleman arrived in Alton his hair was in a "man bun."
"There is no direct witness identification of Mr. Coleman," Sullivan argued, noting the identity of the murderer will probably never be verified. She also said the Alton couple are not credible witnesses, given that they flatly denied being in the marijuana business.
Feimer, representing Ahumada Mendoza, said he has "a completely different picture of this evidence than the People do."
"I am really straining to hear what actually was introduced to indicate … Ms. Ahumada Mendoza had knowledge that there was a felony committed, and what she is supposed to have done to have assisted Mr. Coleman in the aftermath. I mean their most compelling eyewitness, Ms. Acosta, says they heard shots and (Ahumada Mendoza) ran to the car and something like 'Oh, shit.' ''
"There's no evidence that Ms. Ahumada saw anybody shoot Mr. Renfro, in any way shape or form," Feimer said.
He called Acosta a "highly unreliable witness." She claimed she barely knew Coleman and was afraid of him, yet earlier on the day of the killing she rode along with him to a "business meeting" he arranged in Eureka with the Alton couple, "the same people who claim Mr. Coleman dropped off the Honda at their place."
Acosta also was a marijuana seller and had given Ahumada Mendoza a pound of "Sour Diesel" to sample. After the shooting, she was reportedly so upset that she demanded Ahumada Mendoza let her out of the car in Hydesville.
"She remembered to ask for her weed back, and for some gas money," Feimer said. Canning first addressed Ahumada Mendoza's charge of being an accessory after the fact, saying he didn't believe the prosecution presented a viable basis for that allegation.
"Perhaps the closest, from the court's perspective, they came was the testimony from Ms. Acosta regarding Ms. Ahumada Mendoza handing something to Mr. Coleman. But there's no testimony as to what that actually was. It could be speculated it was a gun. It could be speculated it was marijuana."
Finally, the judge said he saw no evidence that Ahumada Mendoza helped Coleman. He ordered that the charge be dismissed.
Schaffer spoke up, asking whether his ruling applied to Ahumada Mendoza picking Coleman up in Alton after the killing.
"Yes, absolutely," Canning responded. "There's no evidence she was trying to assist Mr. Coleman in escaping from law enforcement. So there's just no evidence from the court's standpoint that would establish any kind of probable cause."
As to Coleman, the judge held him to answer on one count of murder and a special weapons allegation, even though he described the evidence as "not strong."
"But I think there is sufficient evidence to proceed forward in this matter." He said the evidence was enough to cause "strong suspicion" of guilt, but "I'm not going to comment on whether or not there's more than a strong suspicion."
Canning said he based his ruling primarily on Acosta's statements and the video showing a green Honda circling the block twice, with shots fired the second time.
"It's pretty well established in the court's mind that Mr. Coleman was driving a green Honda, and not too far from where the murder occurred."
Coleman will be arraigned on the charges on Aug. 10.
###
PREVIOUSLY: