(AUDIO) Mayor Garnes is Holding Up

As is the nature of our online news beast, the Lost Coast Outpost tends to focus a lot of its energies on stuff that happens in the most densely populated areas of Humboldt. Sorry! That's how it goes. But that doesn't mean we're not immensely curious about what goes on in the less-traveled pockets of the county.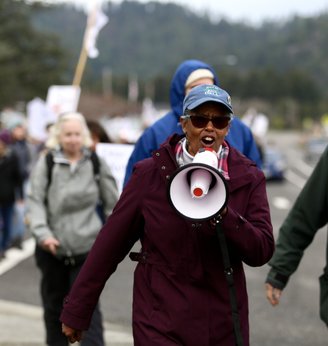 Take the city of Rio Dell, for instance. What even is that place?! What goes on there? Well, for answers we turned to Mayor Debra Garnes who was kind enough to zoom in for the latest edition of Humboldt Holding Up, LoCO's pandemic-era podcast experiment. In the past few years, Garnes has set out to shake up her small Eel River Valley hamlet, whether it be by challenging her council to embrace cannabis, leading the charge against the proposed Terra-Gen Wind Project, or finding creative ways to spruce up Wildwood Avenue, Rio Dell's main thoroughfare.
Click the audio player above to hear Mayor Garnes speak to LoCO's Andrew Goff and Stephanie McGeary on a number of Rio Dell-related subjects, including:
Changing the outside world's perspective of the city
Why she pushed her city to pursue cannabis businesses
How she and her partner ended up moving to the city
Why she opposed the Terra-Gen wind project
How Rio Dell has fared against COVID-19
More!
Housekeeping: You can also now subscribe to Humboldt Holding Up on iTunes! (We've almost got that figured out. We still screw it up sometimes. Eh.) Also: You can check out other Humboldt humans we've managed to corral by scrolling below.
PREVIOUSLY ON HUMBOLDT HOLDING UP: