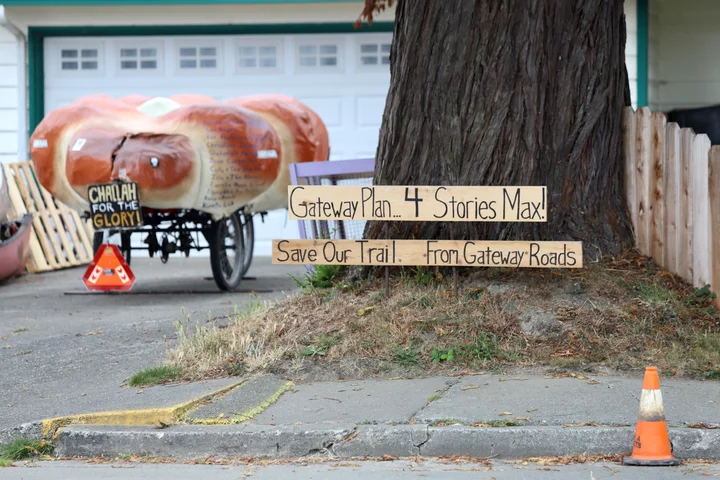 ###
During a nearly three and a half hour long joint study session on Arcata's Gateway Area Plan Tuesday night – it's that plan to rezone 138 acres of the city to bolster housing development – the Arcata City Council and Planning Commission made no decisions and gave no clear direction to staff on how to move forward with the planning process.

Unlike a regular meeting, a study session is meant to serve as an opportunity to go over documents, receive presentations and provide feedback, and no formal action is usually taken. This particular study session was held so that the Arcata Council and the Planning Commission could hear each other's thoughts on the draft Gateway Area Plan and to provide feedback – particularly on proposed building heights, traffic circulation and the community engagement process – that City staff could use to create a second draft plan to bring back in September. But what exactly that will look like is still unclear.
A large portion of the meeting, as expected, was taken up with discussing proposed building heights for housing developments. City staff has separated the Gateway Area, which includes and surrounds Arcata's Creamery District, into four sub-areas: the Barrel District (named for the barrel company that used to be there) the Gateway Hub, the Gateway Corridor and the Gateway Neighborhood. To accommodate the need for housing, staff recommended that the plan allow up to eight-story developments in the Barrel District, up to seven stories in the Gateway Hub, up to six stories in the Gateway Corridor and up to five stories in the Gateway Neighborhood.
The hope was that Tuesday's study session would have resulted in a clear consensus on what building heights would be permitted in the final draft of the Gateway Plan. But the council and planning commission gave no clear direction on building heights. What they did do was take a straw poll on what heights they felt comfortable with, giving a slight idea of what direction they may go in the future. But for the most part, the numbers were pretty split.
For example: During the vote on building heights in the Barrel District, 36 percent (or four people out of the 11 councilmembers and commissioners present) voted that they would cap the building height at eight stories. A seven-story cap received two votes, six stories also received two votes and a four-story cap received three votes.
There was also a lot of talk about how the City could encourage more community engagement and gather more accurate feedback on what building heights residents would like to see. Julie Vassaide-Elcock, planning commission chair, suggested that the City do more targeted discussions and outreach, tackling one Gateway district at a time and finding ways to gather feedback from residents of each individual Gateway sub-area. But some other commissioners and councilmembers felt that it wouldn't be that helpful, because people who live in those neighborhoods are not the only ones who are affected by the Gateway Plan.
[CORRECTION: This article previously misstated that Vassaide-Elcock suggested "going door-to-door" in the Gateway Area to gather community feedback. What she actually suggested was "going district by district", which she explained to the Outpost meant that she wants to find ways to gather more community feedback from residents of each Gateway sub-area, to find out what they would like to see in their neighborhood. She is not sure what the best method of doing that would be, but plans to discuss it at the next Planning Commission meeting.]
Councilmember Brett Watson suggested that the city hire an outside polling consultant, similarly to what the city did when drafting Measure A, to gauge how people in the community feel about aspects of the Gateway Plan. Some other councilmembers voiced support for that idea.
So what will happen next? Again, that is a little unclear. Arcata city staff had hoped to receive enough feedback to bring back another version of the Gateway Area Plan in September, but no date has been set for that yet. The Outpost reached out to members of the Planning Department, but had not received a response by the time of publication.
David Loya, Arcata's director of community development, addressed the issue of hitting deadlines that would affect the City's eligibility for funding and said that all of the deadlines City had mentioned in the past have been resolved. The most pressing Aug. 31 deadline was for the state's low-income housing requirement, which Loya said the City fulfilled with approval of the conversion of two Valley West motels into housing projects.
"At this point we have no upcoming deadlines that are putting us risk for any financial or other implications," Loya said during the study session.
You can check out the full recording of the study session here.
###
PREVIOUSLY: