Monday, Jan. 6, 2014's Chowdown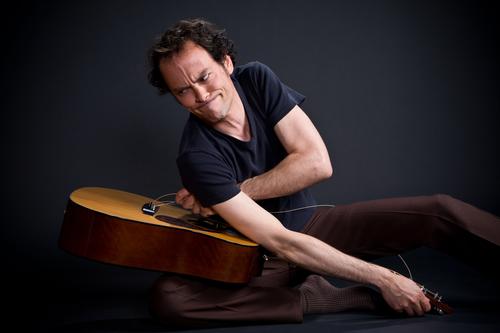 Just by sheer numbers, the most Humboldt eyeballs will undoubtedly be drawn to tonight's BCS Championship game — that's college football, if you're wondering — between Auburn and Florida State. More bars than not will be pumping those sporty images at their patrons, but we'll note here in Lowdown land that watching foosball on the giant screen at Arcata Theatre Lounge is actually highly enjoyable.
On the other hand, if sports make you yawn, let your Lowdown make an alternative suggestion: Humboldt County's most ambitious songwriter John Ludington (pictured) will act as Monday night's savior by spilling his genius into the ears assembled at Siren's Song Tavern. He'll be joined by New York alt/folk posse Hieronymous Bogs.
-Andrew Goff
Events
Restaurants
Eureka
Arcata
McKinleyville
Trinidad
---
Movie Showtimes
Broadway Cinema
47 RONIN 2D: 3:10, 9:05
47 RONIN 3D: 12:15, 6:05
AMERICAN HUSTLE: 2:10, 5:25, 8:40
ANCHORMAN 2: THE LEGEND CONTINUES: 12:35, 3:30, 6:25, 9:20
FROZEN 2D: 12:00, 2:35, 5:15, 7:50
GRUDGE MATCH: 12:55, 3:40, 6:30, 9:15
HOBBIT: THE DESOLATION OF SMAUG 2D: 1:20, 8:30
HOBBIT: THE DESOLATION OF SMAUG 3D: 4:55
HUNGER GAMES: CATCHING FIRE: 1:50, 5:05, 8:20
JUSTIN BIEBER S BELIEVE: 7:30, 9:35
PARANORMAL ACTIVITY: THE MARKED ONES: 12:20, 2:35, 4:50, 7:10, 9:30
SAVING MR BANKS: 11:55, 2:55, 5:55, 8:55
SECRET LIFE OF WALTER MITTY: 12:05, 2:50, 5:40, 8:35
WALKING WITH DINOSAURS 2D: 1:00, 3:15, 5:30
WOLF OF WALL STREET: 12:10, 4:05, 8:00
Mill Creek Cinema
47 RONIN 2D: 3:15, 9:10
47 RONIN 3D: 6:10
AMERICAN HUSTLE: 5:35, 8:45
ANCHORMAN 2: THE LEGEND CONTINUES: 3:05, 6:00, 8:55
FROZEN 2D: 3:00
GRUDGE MATCH: 3:50, 6:35, 9:20
HOBBIT: THE DESOLATION OF SMAUG 2D: 4:20
HOBBIT: THE DESOLATION OF SMAUG 3D: 8:00
PARANORMAL ACTIVITY: THE MARKED ONES: 4:50, 7:10, 9:30
SECRET LIFE OF WALTER MITTY: 3:00, 5:45, 8:30
WOLF OF WALL STREET: 3:55, 7:50
Minor Theatre
AMERICAN HUSTLE: 5:20, 8:30
SECRET LIFE OF WALTER MITTY: 3:30, 6:15, 9:00
WOLF OF WALL STREET: 4:10, 8:00