Friday, Oct. 17, 2014's Chowdown
October is the month all the scary stuff happens, remember? We pack it in. And tonight Humboldt kicks it into high yuck.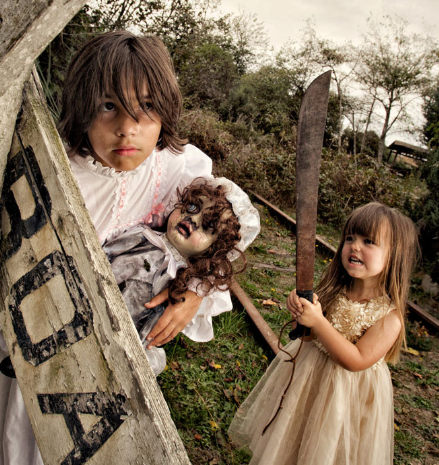 Now, while your Lowdown is sad to report that the Haunted Kinetic Lab of Horrors is taking a year off, never fear, Blue Ox Millworks' Haunted Mill Tour is stepping up to satiate your scare needs, promising "a bigger budget, bigger technical team, more days and expanded hours." The bad taste begins this evening and runs Fridays and Saturdays through Nov. 1. Get a glimpse inside the mill in the clip above (if you dare no, really, it's fine).
A quick perusal of today's Lowdown listings reveals no shortage of other events banking your need to check the Halloween box. The Addams Family Musical continues its run at the Ferndale Repertory Theatre, the Arcata Theatre Lounge is trotting out a screening of A Nightmare on Elm Street (1984), and, finally, the Eureka Theater crew will kick off its "Bad Cinema Weekend" with a double feature of Ed Wood's classically bad Plan 9 From Outer Space (1959) and the more recently bad Birdemic (2010). If you have not seen the trailer for the latter, oh man, do that below.
For events that don't seem to care what month it is, scroll farther down, you.
—Andrew Goff
Events
Restaurants
Eureka
Arcata
Eel River Valley
McKinleyville
SoHum
Trinidad
Blue Lake
---
Movie Showtimes
Broadway Cinema
ALEXANDER AND THE TERRIBLE HORRIBLE NO GOOD VERY BAD DAY: 12:10, 2:20, 4:30, 6:40, 8:45
ANNABELLE: 1:05, 3:40, 6:00, 9:30
BEST OF ME: 12:15, 3:10, 6:05, 9:00
BOOK OF LIFE 2D: 12:00, 3:00, 4:10, 5:30
BOOK OF LIFE 3D: 12:30, 8:00
BOXTROLLS 2D: 12:55, 3:20
DRACULA UNTOLD: 12:40, 4:00, 6:15, 9:35
EQUALIZER: 2:15, 5:15, 8:15
FURY: 11:55, 2:25, 5:35, 8:45
GONE GIRL: 12:20, 2:50, 6:10, 8:25
GUARDIANS OF THE GALAXY 2D: 5:45, 8:30
JUDGE: 12:50, 3:05, 6:20, 8:35
MAZE RUNNER: 3:35, 6:25, 9:15
MEET THE MORMONS: 11:55, 2:05, 6:35, 8:55
Mill Creek Cinema
ALEXANDER AND THE TERRIBLE HORRIBLE NO GOOD VERY BAD DAY: 12:10, 2:20, 4:30, 6:40, 8:50
ANNABELLE: 6:50, 9:20
BEST OF ME: 12:20, 3:10, 6:05, 9:00
BOOK OF LIFE 2D: 12:00, 3:00, 5:30
BOOK OF LIFE 3D: 12:30, 8:00
BOXTROLLS 2D: 1:50, 4:20
DRACULA UNTOLD: 12:15, 2:30, 4:50, 7:10, 9:30
FURY: 2:25, 5:35, 8:45
GONE GIRL: 1:40, 5:10, 8:35
JUDGE: 2:10, 5:20, 8:30
Minor Theatre
FURY: 5:25, 8:30
GONE GIRL: 4:55, 8:15
SKELETON TWINS: 4:20, 6:40, 9:00