(VIDEO) Some Guy Who Looks Like a Disco Astronaut or Something is Going to Play Slide Guitar in an Inflatable Raft Tonight (Yes, In Arcata)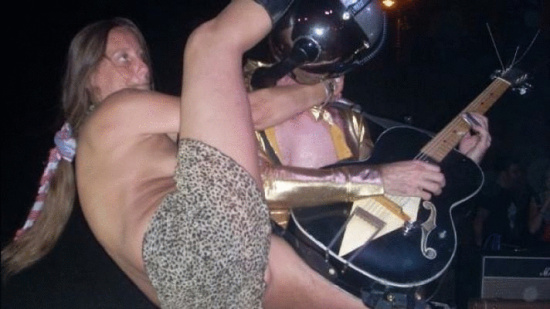 Comparatively above average Thursday here in HumCo. We're talking world class choreography in the form of Shaping Sound Dance Company up at the Van Duzer Theatre, the finest local burlesque at HumBrews courtesy Rag Doll Revue, and Savage Henry Magazine's latest out-of-town comedian seduction o'er at Richard's Goat Tavern. Be not bored and alone this weeknight, Humboldt.
But jaded Lowdown clickers who have scrolled through plenty of CenterArts, burlesque and standup shows here through the years may want to drink some coffee and head to the Alibi for some late night spectacle. There, you will find Bob Log III who is technically a blues guitarist, sure, but he's developed quite the odd, trashy persona over the years (as the headline to this blurb should indicate). Bob's live shows are guaranteed to provide you with next day stories.
How 'bout this. Watch the clip below and we can move on with our days. —AG
Events
Movie Showtimes
Broadway Cinema
BEAUTY AND THE BEAST 2D: 11:45, 1:10, 2:45, 4:15, 5:45, 7:20, 8:45
BEAUTY AND THE BEAST 3D: 12:20, 3:20, 6:20, 9:20
CHIPS: 7:00
GET OUT: 1:45, 4:20, 9:30
JOHN WICK: CHAPTER 2: 4:00, 9:05
KONG: SKULL ISLAND 2D: 12:55, 2:40, 3:45, 6:35, 8:20, 9:25
KONG: SKULL ISLAND 3D: 11:50, 5:30
LIFE: 8:00
LOGAN: 11:55, 1:30, 3:00, 4:40, 6:10, 7:50, 9:15
MOONLIGHT: 3:50, 6:25, 9:00
POWER RANGERS: 7:00
TABLE 19: 1:40
THE LEGO BATMAN MOVIE 2D: 12:10, 1:15, 2:55, 5:25
THE SHACK: 11:45, 2:50, 5:50, 8:50
Mill Creek Cinema
BEAUTY AND THE BEAST 2D: 2:45, 5:45, 6:25, 8:45
BEAUTY AND THE BEAST 3D: 3:30, 9:20
CHIPS: 9:00
GET OUT: 4:10, 9:30
KONG: SKULL ISLAND 2D: 2:40, 3:40, 5:30, 8:20, 9:15
KONG: SKULL ISLAND 3D: 6:30
LA LA LAND: 2:55, 5:55
LIFE: 8:00
LOGAN: 3:00, 6:05, 9:05
POWER RANGERS: 7:00
THE LEGO BATMAN MOVIE 2D: 3:05, 5:40
Minor Theatre
BEAUTY AND THE BEAST: 1:30, 5:00, 8:15
GET OUT: 4:00, 6:45, 9:30
LOGAN: 2:15, 5:45, 9:00
THE WIND RISES: 1:00