(VIDEO) A Bunch of Folk are Going to Hurl Themselves Into Humboldt Bay Today
Above: Highlights from the 2017 Perilous Plunge.
hy·po·ther·mi·a: An abnormally low body temperature, often caused by prolonged exposure to cold.
mas·och·ism: A willingness or tendency to subject oneself to unpleasant or trying experiences.
That's right, gravity fans! Saturday boasts the return of the Perilous Plunge, the Discovery Museum's biggest fundraiser of the year. Starting at 11 a.m., plungers will march toward the Boardwalk and then generously, one by one, fling themselves off the pier at the foot of F Street into the temperature-challenged waters of Humboldt Bay. (Hopefully they gathered some pledges beforehand.)
If you've attended the Plunge in years past, you're aware that the prime viewing areas fill pretty quickly, so boogie down early.
More details on the plunge and other Saturday joy in your Lowdown below.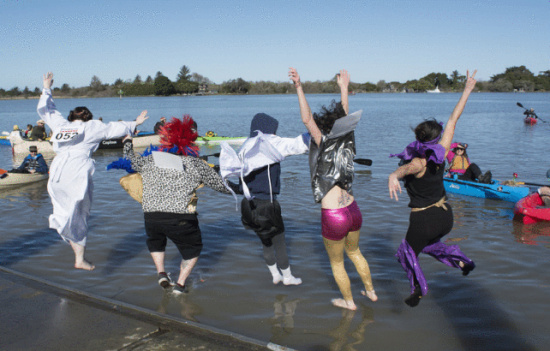 Events
Movie Showtimes
Broadway Cinema
7 DAYS IN ENTEBBE: 1:40, 4:15, 6:50, 9:25
ANNIHILATION: 1:25, 6:45
A WRINKLE IN TIME 2D: 12:00, 2:45, 5:30, 8:10
BLACK PANTHER 2D: 11:50, 3:00, 6:10, 9:15
DEATH WISH: 4:30, 9:40
GAME NIGHT: 1:50, 7:10
GRINGO: 4:20, 9:20
HURRICANE HEIST, THE: 4:10, 9:30
LOVE, SIMON: 1:00, 3:40, 6:20, 9:00
PETER RABBIT: 1:10, 3:35, 6:00
RED SPARROW: 11:45, 2:50, 5:55, 9:05
SHAPE OF WATER: 8:20
STRANGERS: PREY AT NIGHT: 12:40, 2:55, 5:05, 7:20, 9:35
THOROUGHBREDS: 1:55, 7:00
TOMB RAIDER: 11:55, 12:55, 2:40, 3:50, 5:35, 6:40, 8:25, 9:30
TOMB RAIDER 2D: 11:55, 12:55, 2:40, 3:50, 5:35, 6:40, 8:25, 9:30
TOMB RAIDER 3D: 2:40, 8:25
Mill Creek Cinema
A WRINKLE IN TIME 2D: 12:30, 3:15, 5:55, 8:35
A WRINKLE IN TIME 3D: 4:55
BLACK PANTHER 2D: 12:00, 3:05, 6:10, 9:15
DEATH WISH: 1:45, 9:30
GAME NIGHT: 12:10, 4:30, 7:00
GRINGO: 1:35, 9:25
HURRICANE HEIST, THE: 4:15, 6:50
RED SPARROW: 12:00, 2:40, 5:50, 9:00
STRANGERS: PREY AT NIGHT: 12:35, 2:50, 3:00, 5:05, 7:20, 9:35
TOMB RAIDER: 12:40, 1:55, 3:30, 6:20, 7:40, 9:10
TOMB RAIDER 2D: 12:40, 1:55, 3:30, 6:20, 9:10
TOMB RAIDER 3D: 7:40
Minor Theatre
A FANTASTIC WOMAN: 2:15, 5:00, 7:45
A WRINKLE IN TIME: 2:45, 5:25, 8:20
BLACK PANTHER: 2:00, 5:55, 9:00