FRIDAY LOWDOWN: Ack! It's the Final Friday Night Market of 2018!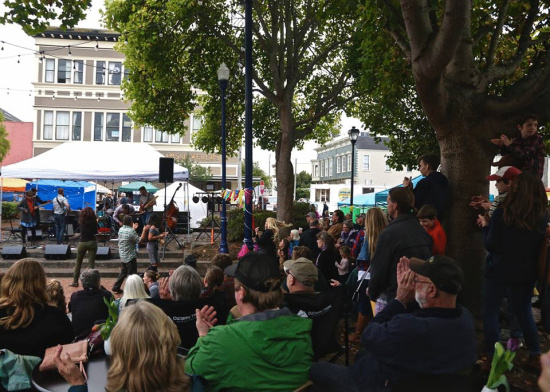 Eureka was arguably made greater in 2018 on a number of fronts, but none of those changes were quite as celebrated as the addition of the Friday Night Market which brought much-craved community and vibrance to Old Town to end the grueling work week. Congrats to all that made that happen. That worked well.
Well, you might have noticed it's damn near winter 'round Humboldt now, so its time to call it a year. Tell you what: we'll allow you one more Friday Night Market before they pack it in until 2019. That happens tonight with music you know provided by The Undercovers. Also, food. Also, local crafts. (You know how this works at this point.) Last call!
But that's not all! Details on lots of other Friday night joys in your Lowdown listings below.
Events
Movie Showtimes
Broadway Cinema
A STAR IS BORN: 11:50, 2:55, 6:00, 9:05
BAD TIMES AT THE EL ROYALE: 11:45, 2:45, 5:55, 9:00
FIRST MAN: 11:55, 3:00, 6:05, 9:10
GOOSEBUMPS 2: HAUNTED HALLOWEEN: 11:50, 2:05, 4:25, 6:45, 8:55
HALLOWEEN: 12:30, 1:55, 3:10, 4:30, 5:45, 7:05, 8:20, 9:40
HATE U GIVE, THE: 12:10, 2:25, 5:30, 8:30
HOUSE WITH A CLOCK IN ITS WALLS: 1:20, 6:40
NIGHT SCHOOL: 1:10, 3:50, 6:30, 9:20
OLD MAN AND THE GUN, THE: 12:00, 3:15, 5:40, 8:05
SISTERS BROTHERS, THE: 3:55, 9:15
SMALLFOOT 2D: 12:40, 3:05, 5:35
VENOM 2D: 1:30, 4:10, 6:50, 8:00, 9:30
Mill Creek Cinema
A STAR IS BORN: 11:55, 2:55, 6:00, 9:05
BAD TIMES AT THE EL ROYALE: 12:00, 3:05, 6:05, 9:10
FIRST MAN: 11:45, 2:50, 5:55, 9:00
GOOSEBUMPS 2: HAUNTED HALLOWEEN: 11:50, 2:10, 4:30, 6:45, 8:55
HALLOWEEN: 1:20, 4:00, 6:40, 8:00, 9:20
HATE U GIVE, THE: 11:45, 2:45, 5:45, 8:45
SMALLFOOT 2D: 12:45, 3:15, 5:40
VENOM 2D: 1:30, 4:10, 6:50, 9:30
Minor Theatre
A STAR IS BORN (2018): 2:00, 6:15, 9:00
FIRST MAN: 1:00, 5:00, 8:30
HALLOWEEN (1978): 12:30
VENOM: 3:00, 5:45, 9:30