4/20 LOWDOWN: Don Carlos! Billy Wayne Davis! Melvin Seals! Beer?!?
Because weed. Yes, it's Humboldt's favorite holiday and a quick scroll of your Lowdown reveals that there's plenty of events vying for your stoned attention. Some high(!)lights:
Arguably the most day-appropriate event is going down at Forever Found in Eureka, namely the Prohibition is Over! 420 Celebration featuring music by Don Carlos, Object Heavy and Woven Roots.
There may come a point in the day when you fancy a giggle. Good news! The Savage Henry Comedy Club has cobbled together one of their more impressive lineups to date including headliner Billy Wayne Davis.
Why yes, there is a jam band with Dead ties! Melvin Seals and JGB make their return to HumBrews for some extended soloing on at least a few songs Jerry wrote.
Or perhaps you'd like to spend your Saturday indulging in Humboldt's second favorite drug. Halvorsen Park will act as the starting line for the first ever Eureka Beer Mile, which will see fine citizens chugging local brews whilst attempting athletic feats. What could go wrong?
Details on those gatherings and much more in your Lowdown below.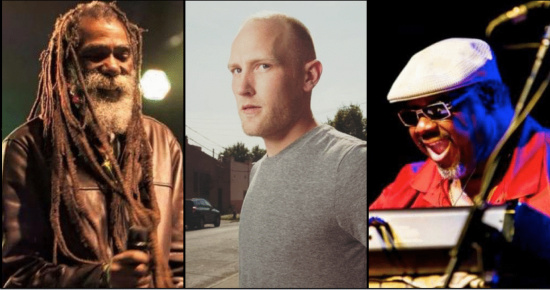 Events
Movie Showtimes
Broadway Cinema
AFTER: 12:45, 3:25, 5:55, 8:25
BREAKTHROUGH: 11:55, 2:40, 5:25, 8:10
CAPTAIN MARVEL 2D: 11:30, 2:30, 5:30, 8:30
CURSE OF LA LLORONA, THE: 12:00, 2:25, 4:50, 7:15, 9:40
DUMBO: 11:40, 2:25, 5:15, 8:00
HELLBOY: 12:35, 3:35, 6:20, 9:10
LITTLE: 12:55, 3:40, 6:15, 8:55
MISSING LINK 2D: 11:35, 1:50, 4:10, 6:25
PENGUINS: 12:30, 2:35, 4:35, 6:40, 8:35
PET SEMATARY: 1:55, 4:30, 7:00, 9:30
SHAZAM! 2D: 11:45, 2:45, 5:45, 8:45
TEEN SPIRIT: 1:45, 4:05, 6:30, 8:50
US: 8:40
Mill Creek Cinema
AFTER: 1:00, 3:35, 6:15, 8:55
CAPTAIN MARVEL 2D: 11:50, 2:50, 5:50, 8:50
CURSE OF LA LLORONA, THE: 1:55, 4:25, 6:55, 9:20
DUMBO: 12:40, 3:25, 6:10, 8:50
HELLBOY: 12:50, 3:40, 6:20, 9:10
MISSING LINK 2D: 1:50, 4:10, 6:30, 8:45
PET SEMATARY: 11:45, 2:10, 4:35, 7:05, 9:30
SHAZAM! 2D: 12:00, 3:00, 6:00, 9:00
Minor Theatre
2019 HIFF: ANIMATION/EXPERIMENTAL: 6:30
$5 FLASHBACK: THE MATRIX (1999): 3:00
HELLBOY: 2:00, 5:45, 8:45
THE BEACH BUM ESP HIGH NOON: 12:00
THE BEACH BUM: EXTRA SENSORY HIGH NOON SCREENING: 12:00
THE BEACH BUM: EXTRA SENSORY PERFORMANCE: 9:30
THE BEACH BUM: EXTRA SENSORY PRESENTATION: 9:30
THE MUSTANG: 1:00, 5:00, 7:45