Friday, Aug. 16, 2019's Chowdown
Flippin' sweet! The Mendocino-based, all-human Flynn Creek Circus has once again erected their big top tent in Humboldt, this year in Arcata's Creamery District. If you happen to step right up, expect to be visually assaulted by eye-demanding aerialists, death-defying acrobats and feats of juggling wizardry. Note: No animals were caged during production of this circus.
Details on that and other Friday delights in your Lowdown listings below.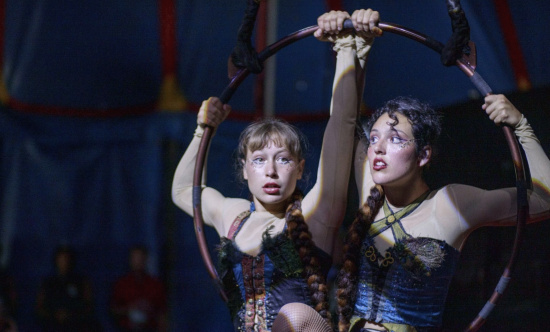 Events
Restaurants
Eureka
Arcata
Eel River Valley
McKinleyville
SoHum
Trinidad
Blue Lake
---
Movie Showtimes
Broadway Cinema
47 METERS DOWN: UNCAGED: 1:45, 4:10, 6:30, 8:50
ANGRY BIRDS MOVIE 2 2D: 12:00, 2:35, 5:10, 7:45
BLINDED BY THE LIGHT: 12:10, 3:00, 5:45, 8:40
DORA AND THE LOST CITY OF GOLD: 12:15, 2:45, 5:15, 7:50
FAREWELL, THE: 1:55, 7:00
FAST & FURIOUS PRESENTS: HOBBS & SHAW: 11:50, 2:55, 6:00, 9:10
GOOD BOYS: 12:20, 2:40, 4:55, 7:20, 9:40
KITCHEN, THE: 4:25, 9:30
LION KING, THE 2D: 11:40, 2:30, 5:20, 8:10
ONCE UPON A TIME … IN HOLLYWOOD: 1:20, 4:50, 8:20
SCARY STORIES TO TELL IN THE DARK: 1:30, 4:05, 6:40, 9:20
THE ART OF RACING IN THE RAIN: 12:30, 3:10, 5:50, 8:30
WHERE'D YOU GO, BERNADETTE: 1:15, 3:50, 6:25, 9:00
Mill Creek Cinema
47 METERS DOWN: UNCAGED: 1:55, 4:20, 6:40, 9:05
ANGRY BIRDS MOVIE 2 2D: 12:10, 2:45, 5:25, 8:00
BLINDED BY THE LIGHT: 12:20, 3:15, 6:00, 8:50
DORA AND THE LOST CITY OF GOLD: 12:40, 3:10, 5:40, 8:10
GOOD BOYS: 12:00, 2:30, 4:50, 7:10, 9:30
KITCHEN, THE: 3:40, 9:15
SCARY STORIES TO TELL IN THE DARK: 1:25, 4:05, 6:45, 9:25
SPIDER-MAN: FAR FROM HOME 2D: 12:30, 6:15
WHERE'D YOU GO, BERNADETTE: 1:15, 3:50, 6:25, 9:00
Minor Theatre
GOOD BOYS: 2:00, 4:30, 7:00, 9:30
ONCE UPON A TIME … IN HOLLYWOOD: 1:30, 5:15, 9:00
WHERE'D YOU GO, BERNADETTE: 3:00, 5:45, 8:30