FRIDAY LOWDOWN: Who Killed That Hippo?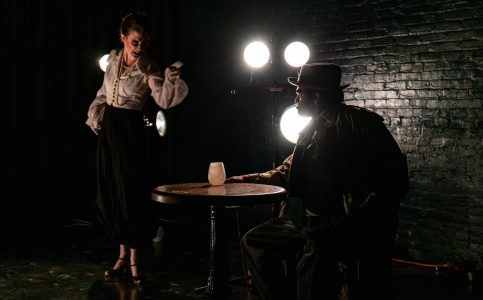 The Mad River Festival breaks out of Blue Lake for handful of productions of Forgive Us, Gustavito! at the Arcata Playhouse this weekend. The play is "set in the backdrop of a horrific crime, inspired by bizarre true events" and concerns "Gustavito, the solitary hippo of the National Zoo" who's been "found dead from fifteen stab wounds to the snout." Bummer!
Details on that and other Friday goodies in your Lowdown listings below.
Events
Movie Showtimes
Broadway Cinema
ALADDIN 2D: 11:30, 2:30, 5:35, 8:35
ANNABELLE COMES HOME: 11:45, 2:15, 4:45, 7:15, 9:45
AVENGERS: ENDGAME 2D: 6:25
CHILD'S PLAY: 4:55, 7:20, 9:40
MEN IN BLACK: INTERNATIONAL 2D: 1:10, 4:05, 6:45, 9:25
MIDSOMMAR: 11:40, 2:50, 6:00, 9:05
SECRET LIFE OF PETS 2 2D: 12:15, 1:55, 2:35, 4:10
SPIDER-MAN: FAR FROM HOME 2D: 11:30, 12:15, 1:45, 2:30, 3:15, 4:45, 5:30, 6:15, 7:45, 8:30, 9:15, 10:00
SPIDER-MAN: FAR FROM HOME 3D: 1:00, 4:00, 7:00
TOY STORY 4 2D: 11:25, 1:20, 3:50, 6:20, 8:50
YESTERDAY: 12:55, 3:40, 6:35, 9:15
Mill Creek Cinema
ANNABELLE COMES HOME: 1:45, 4:15, 6:45, 9:15
AVENGERS: ENDGAME 2D: 8:00
CHILD'S PLAY: 11:35, 5:50
MEN IN BLACK: INTERNATIONAL 2D: 12:20, 3:05
MIDSOMMAR: 11:40, 2:50, 6:00, 9:05
SECRET LIFE OF PETS 2 2D: 1:00, 3:10, 5:20
SPIDER-MAN: FAR FROM HOME 2D: 11:30, 12:30, 2:30, 3:30, 5:30, 6:30, 8:30, 9:30
SPIDER-MAN: FAR FROM HOME 3D: 7:30
TOY STORY 4 2D: 11:25, 1:55, 4:25, 6:50, 9:15
YESTERDAY: 12:35, 3:25, 6:15, 9:00
Minor Theatre
MIDSOMMAR: 2:00, 6:00, 9:30
SPIDER-MAN: FAR FROM HOME: 12:30, 3:45, 7:00, 10:15
TOY STORY 4: 12:00, 2:45, 5:30, 8:30