Lowdown! for Sunday, April 16
SPONSORED BY
Top Events!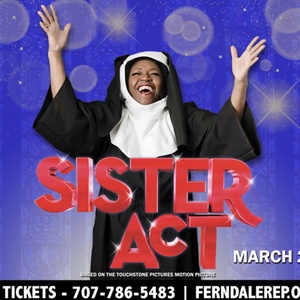 Sister Act: The Musical
Ferndale Repertory Theatre / 2 p.m. / $20 / $18 Senior / $18 Student
When disco diva, Deloris Van Cartier, witnesses a murder, she is put in protective custody in the one place the cops are sure she won't be a found: a convent!
Web site /
All Events!
Movie Showtimes
Broadway Cinema
AIR: 11:30, 2:20, 5:10, 8:00
DUNGEONS & DRAGONS: HONOR AMONG THIEVES: 12:20, 3:30, 6:50
JOHN WICK: CHAPTER 4: 12:10, 3:40, 7:20
MAFIA MAMMA: 12:00, 2:30, 5:00, 7:30
NEFARIOUS: 11:20, 1:50, 4:10, 6:40
RENFIELD: 12:30, 3:10, 5:40, 8:20
SCREAM VI 2D: 7:50
SUZUME (ENGLISH DUBBED): 11:10, 4:50
SUZUME (ENGLISH SUBTITLED): 2:00, 7:40
SWEETWATER: 11:05, 1:40, 4:20, 7:00
THE POPE'S EXORCIST: 12:50, 3:20, 5:50, 8:30
THE SUPER MARIO BROS. MOVIE 2D: 11:00, 12:40, 2:10, 3:00, 4:40, 5:30, 6:20, 7:10, 11:50
THE SUPER MARIO BROS. MOVIE 3D: 1:20, 3:50
Mill Creek Cinema
AIR: 11:40, 2:15, 4:50, 7:40
DUNGEONS & DRAGONS: HONOR AMONG THIEVES: 12:30, 4:00, 7:30
JOHN WICK: CHAPTER 4: 12:10, 3:40, 7:10
RENFIELD: 11:50, 2:20, 4:40, 7:20
SUZUME (ENGLISH DUBBED): 11:20, 5:00
SUZUME (ENGLISH SUBTITLED): 2:10, 7:50
THE POPE'S EXORCIST: 12:00, 2:40, 5:30, 8:10
THE SUPER MARIO BROS. MOVIE 2D: 11:30, 12:45, 2:00, 4:30, 7:00, 8:00
THE SUPER MARIO BROS. MOVIE 3D: 3:15, 5:45