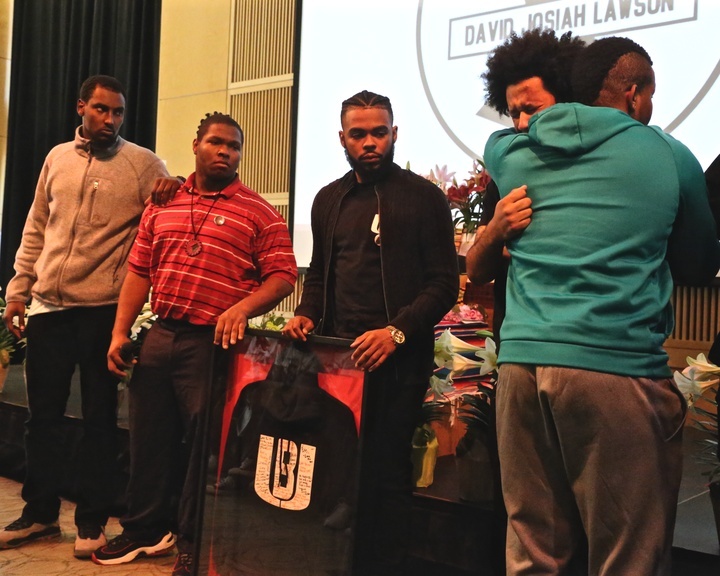 Elijah Chandler, a geology junior at Humboldt State University, was kneeling in a pool of blood, trying to save the life of his close friend and fellow student David Josiah Lawson.

Lawson had just been stabbed, allegedly by a McKinleyville man, Kyle Zoellner, who has been jailed for murder on $1 million bail.
Lawson lay bleeding to death beneath a tree on Spear Avenue in the early morning hours of Saturday, April 15, the day before Easter.
Trained in first aid, Chandler stanched his friend's knife wounds with his T-shirt and administered mouth-to-mouth resuscitation. He and Lawson's girlfriend, who had been stabbed at least twice on her left arm, struggled in vain for some 15 minutes or more before EMTs (Emergency Medical Technicians) arrived.
Chandler is convinced that his 19-year-old schoolmate's life could have been saved if EMT aid had been timely, professional and thorough.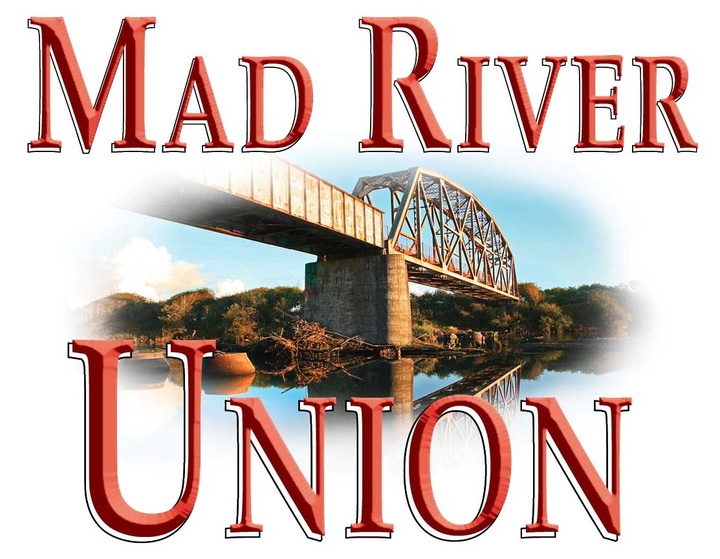 Instead, he alleges, the medical care was hesitant, halfhearted and sketchy because, in his judgment, the EMTs were white and Lawson was black.
Further, Chandler accuses Arcata police of doing nothing to care for Lawson in the interval before three medics finally arrived. His vivid impression was that some seven officers stood by passively, negligent, disengaged and unmoved by Lawson's imminent death – unmoved because he was black.
Arcata Police Chief Tom Chapman responded in an email that Chandler's accusations and similar complaints from other eyewitnesses "are being evaluated. However, our focus is the homicide investigation. I cannot pull resources away from the criminal investigation at this time."
If Chandler's allegations are true, then the police actions he claims to have witnessed are in sharp contrast to the immediate – and successful – lifesaving operations of APD Officers Don Arminio and Matthew O'Donovan after they shot a drunk and threatening white man four times just outside a service station at 14th & H streets in May 2016 (Union, May 25, 2016). The suspect survived and the officers' actions were vindicated by an official inquiry.
To date, law enforcement authorities have produced no evidence publicly, nor made any official statements, that Lawson's murder was racially motivated. Zoellner pleaded not guilty at his arraignment last week, while admitting "he was involved in a physical fight with the victim," according to the arrest report filed by APD Sgt. Detective Todd Dokweiler. His report contains no allegations of either racist or white supremacist violence.
Answering a Union inquiry after Zoellner's arraignment, Humboldt County District Attorney Maggie Fleming said, "I may only file charges that can be proven based upon admissible evidence. I filed the single charge [of murder] based upon witness statements received from the Arcata Police Department, which did not include any evidence related to a hate crime. If there are eyewitnesses who have additional information, they should provide it to the Arcata Police Department."
In a 70-minute, one-on-one interview April 21 at the HSU campus, the soft-spoken and mild-mannered Chandler related in measured but exacting detail what he witnessed when his friend Lawson was killed.
Chandler had been at a Spear Avenue afterparty for several hours with fellow members of Brothers United (BU), a university club of African-American men, but open to all, according to the club's website. He had arrived sometime between 10:30 and 11 p.m. GoodFriday evening, following a separate birthday celebration at the Bayfront One Restaurant in Eureka, attended by 15 to 20 Brothers United members and sisters from Legacy, a campus club for women of color.
The instant he learned that Lawson had been pepper sprayed – allegedly by one of two female companions with Zoellner – and then stabbed in the wee hours of Saturday morning, Chandler ran off in the front yard to find his stricken friend.
Hearing a scream some distance from the house, he quickly located the stricken Lawson. Lawson had collapsed in the pitch black darkness on a grassy, muddy area beneath a tree with low-hanging branches. He had crawled there from a gravel path that leads up to the front porch and was barely conscious, Chandler said.
"His arm was moving and grasping at the branches of the tree. A BU brother grabbed one of Josiah's hands and said, 'It's OK, brother, it's OK.' I dropped down to my knees. I don't know how I had the presence of mind to do this, but whenever things with me get really, really intense I get a kind of calmness about me and it allows me to react to what is happening instead of panicking."
Right away, Chandler noticed that Lawson had two stab punctures. "I took off my white T-shirt and put it on the side of his stomach and pressed on both wounds. His shirt was already off. Maybe he took it off to wipe his eyes when he was pepper sprayed. His girlfriend was to my left and she was screaming hysterically and I said, 'I need you to calm down, you gotta calm down, I need you to put pressure right here' and I grabbed her hand and put it right here and right here [he gestures] and I said, 'Hold this, just please hold this.' I yelled out, 'Somebody call an ambulance!'
"I started doing compressions on his chest because I noticed his hand wasn't moving anymore, his eyes had closed and he wasn't looking responsive at all."
Again and again, Chandler observed that Lawson had stopped breathing and he performed mouth-to-mouth resuscitation countless times to revive him. "I would hear him come back, I would hear him start breathing again and his eyes would open just a little, slightly, and I said like, 'All right, come on, Josiah, come on, come on, we're here, we're here, we gotcha man, everything's gonna be fine.'
"And I asked someone to grab his legs and hold his legs above his heart so the blood would continue pumping through his heart. I had first aid training when I was 18. That's how I knew to put his legs up. We were doing this for about 15 minutes. I was hoping and praying he would come back and he did keep coming back, but it wasn't looking good. Every time I gave him mouth-to-mouth I could feel my lips were burning and my face was burning. That's how I knew he was pepper sprayed, 'cause I could feel it on my face, it was burning the entire time."
Chandler paused with a meaningful expression and said calmly but damningly, "This is the real kicker. There are about seven cops standing around at this point. The police showed up in record time – and did nothing. They were there for crowd control. The dispatcher was always telling them they needed all available units for crowd control. They never once mentioned that someone had been stabbed. The recording is posted online and available."
Asked if any threatening words, gestures or actions were directed at police or if they had any reason whatsoever to feel at risk, Chandler replied simply, "No."
As he waited in high anxiety for the medics to arrive, "All of my brothers were either subduing the assailant [to block his escape] or they were by my side, helping and talking to Josiah so he'd stay alive.
"The only thing I heard – it was monstrous, in my opinion – was the two Caucasian women. Now that the police had arrived and were just making sure the assailant was going to be OK and that nobody touched him, the women were saying, 'I really wish that n***er does die. I really hope that n***er dies.'
"They just kept repeating it and I heard this as I am giving Josiah compressions to fight for his life. They [the women] weren't silenced by the police and the police did nothing to assist me. They didn't put up any kind of caution tape" or cordon off the crime scene.
"I don't know what police protocol is, but to do nothing I don't think is what they're trained to do. And that is what they did: absolutely nothing. There was no attempt to help Josiah. They were only there to make sure that this group of colored people didn't get rowdy and out of control."
Two emergency medical technicians arrived first and were turned away because they were either told by police or heard from dispatch "that we were rioting," Chandler alleged.
Said to be afraid, the two EMTs left the scene temporarily and waited for the arrival of the third EMT, which delayed Lawson's treatment, according to Chandler.
"That's why it took more than 15 minutes for the third one to get there. When the EMTs finally did get there, police cars were blocking the way for them to get through, so they had to park on the street and run further with the stretcher just to get to Josiah. The cops still offered no assistance.
"Once the EMTs did get there, they asked us to move out of the way and when I did that, they grabbed Josiah, grabbed his left leg and his left arm, and just dragged him out from where he was, next to the tree.
"Come to find out – this was told to us by the lead detective on the case – the EMTs did not go to where Josiah was to administer first aid and CPR because they said they were afraid to go in there, because I was there and my [Brothers United] brother was there. They were afraid to help Josiah where he was because they thought we would hurt them."
Chandler teared up, his voice broke, his countenance turned desolate and forlorn.
"This would not have happened if he had been a Caucasian male," he said plaintively of Lawson's fate.
His voice cracked beseechingly as he went on. "It should not have happened. While we're listening to these white Caucasian women say they hope he dies, we have the Caucasian EMTs dragging his body out and that's when my brothers started to yell, 'What are you doing?! Why are you dragging him?!'
"At which point the cops turned around and pulled out their Tasers and pointed them at my brothers and said, 'Back off, back off!' "
Chandler returned to Lawson and dropped back down to his knees again by his side. "The EMT, she begins doing compressions, but I notice she's not giving him rescue breaths. She's on the left side of me and I said like, 'Man, should I be giving him rescue breaths? Do you want me to do it, do you want me to do it?' And she says, yes, do it.
"My first thought was, 'Why are you letting me do your job?' She didn't wanna touch him. And I kept giving him rescue breaths and I noticed that she hadn't covered his wounds, no one was applying pressure to his wounds. So as she's doing the compressions, the blood is pumping out of his side!"
Chandler's tone became disbelieving, incredulous.
"I tell her, you're not covering the wounds, you have to apply pressure, have somebody apply pressure! So then she calls one of the other EMTs and says, 'OK, yeah, apply pressure to the wounds.' And then I said, 'You need to lift his legs up, lift his legs up!' So she asks someone else to come lift his legs up. The whole time I'm wondering why I let her take my place.
"When they brought out the defibrillator I already knew he was gone. And the way they were putting the pads on him: They had one pad on and one was flipped over to the side. They charged it up and the electric current never went off. They did it about three times and each time it was sloppier. It was disgusting to watch."
Chandler, whose first aid training included operation of a defibrillator, sighed heavily now as the interview wound to its close. Visibly weary and disconsolate, he went on, "She [the EMT] was not even willing to try to save his life. She was just doing what looked good. Luckily, I knew what should have been happening and she had to be held accountable."
Union: Did you get her name?
Chandler: I did not get her name."
Union: How old was she?
Chandler: I'm not entirely sure, but somewhere between mid-20s, early 30s.
Union: Do you attribute her behavior to incompetence or to racial prejudice?
Chandler: I believe she had her [EMT] certification and I believe that if it had been someone she cared about to save, she would've done the proper procedure. So I do attribute it to race. I believe Josiah was targeted by the two Caucasian females about their missing cell phone because he was a black male. I believe he was stabbed because he was targeted by a white male who has a history of assault on people of color.
"Just the previous weekend," Chandler said he was told by an APD officer, Zoellner "was at a party and hit another person of color over the head with a bottle. He had a violent record and this was told to us later on by one of the detectives, I'm not sure who it was."
In a concluding vignette from the mortifying crime scene, Chandler observed, "Josiah was in the ambulance, at which time another Brothers United member tried to get in the ambulance with him, saying 'This is family, I need to go with him.'
"And the EMT said, "Get the fuck out of my truck!'"
###
PREVIOUSLY
###

Paul Mann covers courts and other matters for the Mad River Union. Subscribe here.