The District Attorney's Office wants to correct a typo in its written complaint against Clayton Lee Lasinski, and that one little edit would mean a mandatory extra 10 years in state prison if he is convicted.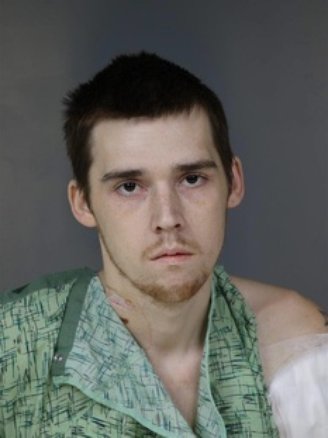 This morning Deputy District Luke Bernthal told Judge Christoper Wilson that his office wants to amend the complaint to charge Lasinski with the special allegation of using a firearm during an assault on a peace officer, rather than the current special allegation of using a firearm during the commission of a crime.
The difference is one number in the California Penal Code: from PC12022.5 to PC12022.53.
"The evidence (to prove either) is exactly the same," Bernthal said, noting that the first charge filed "was just an error."
Lasinski allegedly pointed a gun at Eureka police officers during a wild chase through the streets of downtown Eureka on Dec. 6. Officers fired more than 40 shots at him, hitting him once in the chest.
This morning Deputy Conflict Counsel Hugh Gallagher objected to changing the complaint, telling the judge "This is the first I've heard of this." Lasinski just looked bewildered.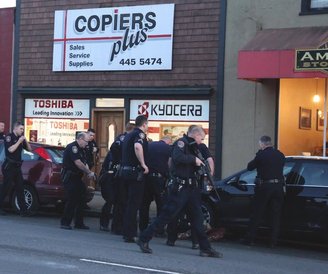 Wilson continued the prosecutor's motion until next week, but said he is "inclined to grant it."
If the judge approves the amendment and Lasinski is convicted by a jury, an extra 10 years in prison could be tacked on to the maximum of 42 years he already faces. Under the current charge he also could be sentenced to 10 additional years, but the judge would also have the option of choosing three or four years.
Lasinski is accused of crimes ranging from not wearing a seatbelt to carjacking. During the chase, which began after he fled from a traffic stop, he allegedly pointed a gun at civilians, stole a car, pointed a gun at pursuing officers and attempted to carjack a pickup truck on Sixth Street.
The gun, which Lasinski never fired, had been stolen from a home in Trinity County in the fall of 2016.
Lasinski's jury trial is scheduled for later this month.
###
PREVIOUSLY: