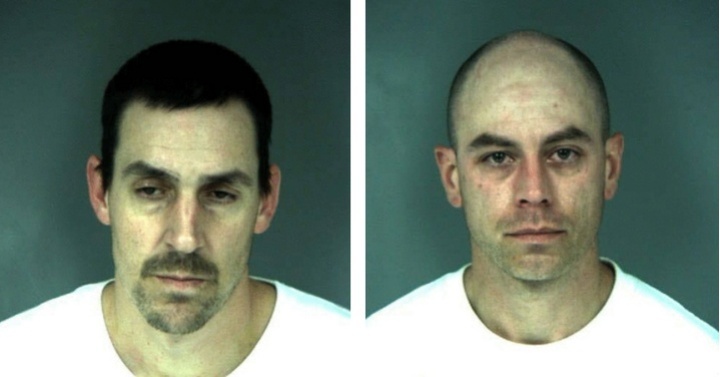 ###

PREVIOUSLY:
###
A tearful Kay Haug took the witness stand today to tell a jury about the night her son was shot dead during a marijuana deal in her Arcata home.
Haug, mother of murder victim Trevor Mark Harrison, said she regrets trying to buy marijuana when family and friends were around. And she's also sorry about what she did after Billy Joe Giddings allegedly pulled a handgun and shot her son.
"I made a decision to remove some marijuana out of the house," she said.
"Instead of doing what?" Deputy District Attorney Roger Rees asked.
"Instead of going right to my son's side, I suppose."
Harrison, 38, died shortly after being shot the night of May 9, 2015, while visiting his mother at her home on Eastern Avenue in Arcata. As he lay dying on the kitchen floor, his mother and her friend and caregiver Demian Starlight tossed about 20 pounds of marijuana out a bedroom window. They hid it in a neighboring shed in hopes that police wouldn't find it.
While they were stashing the marijuana, Haug's friend Kenneth "Soul" Eckridge was calling 911. Police and medics arrived within minutes, but it was too late for Harrison.
The shooting occurred during Haug's third attempted marijuana transaction that day with Kimberly Steele. Haug said Steele showed up the first time with Robert Louis Huntzinger and a pound of bud that looked good. She went to her bedroom to get $1,900 in cash to pay for the weed, but then she weighed it and found it wanting.
"It was 300 and some grams," Haug said, noting that a pound of marijuana plus packaging should weigh about 470 grams. She rejected it, but said she would be interested in buying four pounds of the same product if they if they actually weighed a pound.
Later Steele and Huntzinger returned with four packages of something.
"They showed me four pounds and it was supposed to be the same thing and it wasn't," Haug recalled. "Whatever they put in there to add to (the original) package wasn't even bud.
She said the remaining marijuana "looked like a bunch of trim."
Haug told Steele and Huntzinger she wasn't interested. She said Huntzinger kept trying to convince her to buy all of the pot, and he kept lowering the price. She refused and the pair left angry, slamming the door.
Finally, late that night, Steele returned unexpectedly with a bag of trim. Haug said she wasn't happy, especially because this time Steele brought Giddings. She'd never seen him before. She started looking at the trim, at the same time telling Steele she needed to quit bringing other people with her.
"Right when I said that was when everything happened," Haug testified. "Mr. Giddings brought a gun out."
She said Giddings started saying "Get back!" and "Sit down!"
Then he addressed Haug: "You think you're the queen of Humboldt and our pot's not good enough for you," Haug quoted Giddings as saying.
Harrison was in the kitchen, she said, when someone started to come through the front door. Her son pushed the door closed on the person.
Rees asked whether her son was armed, which Giddings' defense is claiming.
"My son did not have a gun," she said.
Haug said Giddings told her son to "Get back, dog."
Harrison started backing away, but then the person outside started trying to get in again, and again he pushed the door closed. That's when Giddings fired the handgun twice, Haug said.
"What did Trevor do?" Rees asked.
"He looked at me," Haug said, bursting into tears. "He just looked at me like 'Oh my God, I got shot,' " and like he couldn't believe what had just happened to him."
She told Giddings "You just shot my son!" He reportedly responded, "It's only a 22 and I hit him in the shoulder. He'll be fine."
Then, Haug said, Huntzinger walked in the door carrying a duffel bag and a crowbar. He went down the hallway toward her bedroom, and she could hear him rummaging around.
A few minutes later he returned, with the duffel bag looking "bigger and fuller."
As soon as the men left, Steele ran to Harrison. She told Haug she knew CPR.
"That's the only reason I left," Haug said. She and Starlight went to hide the marijuana, and she also told him to hide a handgun hidden in her room behind a stuffed animal.
She said it had been there for months and had never been removed. She thought it might have had one bullet in it, but she wasn't sure.
Testimony was expected to continue tomorrow morning before Judge Dale Reinholtsen.
Rees will continue questioning Haug, with cross-examination by defense attorneys Russ Clanton and Luke Brownfield to follow.
###