Shelter Cove resident Eric Jason Lively, accused of using his Toyota pickup truck as a murder weapon, has been scheduled for jury trial in July.

This morning Judge Marilyn Miles set a trial date of July 31 for Lively, charged with murdering Jesse Earl Simpson on May 3 near a street corner in Shelter Cove. Lively was held to answer after a preliminary hearing last month, and pleaded not guilty at his arraignment today.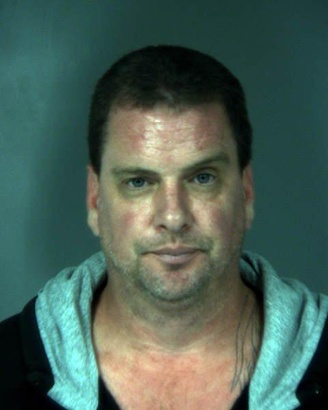 About 20 of Simpson's friends and family members, including his brother Thomas Simpson, were in the courtroom to hear the plea. Afterward they spoke briefly with Deputy District Attorney Adrian Kamada, who is prosecuting the case.

Jesse Simpson, 42, had been weed-whacking a lawn near the corner of Eileen Road and Debbie Lane when he was run over. Defense attorney Russ Clanton argued during the preliminary hearing that Simpson had obviously jumped out in front of Lively, because the point of impact was in the middle of Eileen Road. Debris from Lively's wrecked truck was found there.
Lively and Simpson had a history of animosity, with Lively reportedly believing Simpson had stolen from him. On May 3, Lively told the California Highway Patrol, he and Simpson made eye contact, and he then peeled out toward Simpson, running a stop sign and never applying his brakes. But he also said he never meant to hit the other man, and tried to help him afterward.
Simpson died about an hour after he was run over. According to testimony he suffered numerous injuries, including serious brain damage. When found, he was still harnessed to the weed-whacker.
Lively was not a popular person in Shelter Cove, with residents saying he was known for aggressive behavior and constant threats of violence. He was arrested in 2013 after hitting another Shelter Cove man with the same truck. No charges were filed in that case.
Lively, 45, was jailed shortly after the fatal incident and remains in Humboldt County Correctional Facility on $1 million bail.
###
PREVIOUSLY: