Jurors were escorted from the courtroom at 2 p.m. today to begin deciding whether Eric Jason Lively deliberately ran over and killed his neighbor Jesse Simpson on May 3 in Shelter Cove.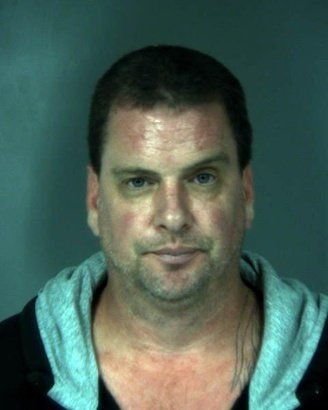 Did Lively finally follow through on his alleged death threats and run Simpson down, or did he have the terrible misfortune of accidentally killing someone he reportedly wanted dead?
The last argument jurors heard today was from Deputy District Attorney Adrian Kamada, who defended the credibility of his witnesses and also his decision not to call an accident-reconstruction expert to testify.
Kamada denied defense attorney Russ Clanton's assertion yesterday that the prosecution called no-one from the California Highway Patrol's accident-investigation team because they would have agreed with a defense expert that Simpson jumped in front of Lively's truck.
"It's an absurd claim, absurd, that the finding of the California Highway Patrol investigation was identical to the finding of the defense expert," Kamada said. He told the jury that if Clanton really believed that, he himself would have called someone from the CHP team as a witness.
"Why pay for an expert when you can stroll in with a safe witness who will say the same thing?" Kamada said.
You don't need an expert, Kamada contended, to see Lively was driving fast enough that the collision caused major damage to the truck and devastating injuries to the man it hit.
As to credibility of witnesses, the prosecutor told jurors they could either believe Lively was the only truth-teller to take the witness stand, or they could believe the people who came to testify about his rants and death threats. They could either decide the community of Shelter Cove was conspiring against Lively, or they could decide he is a liar.
Clanton wants the jury to believe, Kamada argued, that "the defendant is the only person telling the truth. His employer is lying, his long-time partner is lying and his own teen-age daughter is lying. … You can believe the defendant or you can believe the people who were surrounded by him in the days leading up to Jesse Simpson's murder."
What those people said on the witness stand was that Lively, 46, often ranted about his neighbors stealing from him and talked about wanting to kill them, specifically Jesse Simpson. On the day Simpson died, Lively told law enforcement that Thomas Simpson, Jesse's brother, had jumped out of the brush at him while he was driving to work in the morning. He later changed that story, saying Thomas Simpson had driven onto a one-lane bridge to stop him from crossing.
Both Lively's boss Timothy "Max" Mahony and his co-worker Jordan Miclette said Lively suggested that morning that he might go kill his neighbor. And about 1:30 p.m., Lively called the police to report his suspicion that Jesse Simpson entered his house, opened his safe and stole $3,000.
About three hours later Lively's truck struck and killed Simpson at the corner of Debbie Lane and Eileen Road. Lively's daughter testified that her father looked "angry and determined" when he left. When he returned in his smashed-up truck, with blood on his hands, she obeyed his order not to call police. She figured that if her father he was in the state of mind "to drive down and kill Jesse Simpson," she didn't know what else he might do.
Lively denied making oral death threats against his neighbors. However he couldn't dispute e-mails in which he told his ex-girlfriend that she and Thomas Simpson "will die soon." He also wrote "Die for cheating, die for robbing, die."
Kamada detailed some of Lively's lies, and also his apparent paranoia.
"This is the guy who said Thomas jumped out of the bushes," Kamada told the jury. The same guy, he said, who believed neighbors "move the surveillance cameras, use a key that he changes every two days and come in and steal light bulbs and pens."
Lively testified that his former neighbor Trampus Danhaur lied about Lively hitting him with his truck back in 2013, and he denied he had a baseball bat in his truck at the time. But shortly after the incident he told a sheriff's deputy he carried the bat for protection and his truck may have bumped Danhaur.
The defense "shamelessly attacked" Lively's ex-partner Crystal Worthy for testifying that Lively threatened to kill his neighbors, Kamada said, yet the e-mails he sent her threatened just that.
Kamada noted the defense made no mention of Lively's neighbor David Reddy, who said that two weeks before the killing he saw Lively carrying a baseball bat and saying he was going to straighten Jesse out.
As to the fatal collision, Kamada said it doesn't matter whether it occurred in the middle of the road or in the grass where Simpson had been weed-whacking. Both a defense traffic expert and the first CHP officer on the scene concluded the impact was in the road.
"That's wholly consistent with someone actively weed-whacking and jumping out of the way when a car comes barreling at him," Kamada said. He reiterated his belief that Lively was driving fast, not 20 mph as the defense expert estimated. That's apparent, Kamada said, by the amount of damage to the truck and the devastating injuries to Jesse Simpson.
In his jury instructions, Judge Christopher Wilson discussed the law on first-degree murder, second-degree murder, voluntary manslaughter, involuntary manslaughter, gross vehicular manslaughter and the misdemeanor of vehicular manslaughter without gross negligence.
Jurors have been given the option of deliberating all day or just in the afternoons. So far all court proceedings have begun about 1:30 p.m. and ended about 4:30 p.m.
PREVIOUSLY: