Murder suspect Zachary Cordell Harrison, captured Wednesday after months on the run, learned today that he's facing up to two life terms in state prison.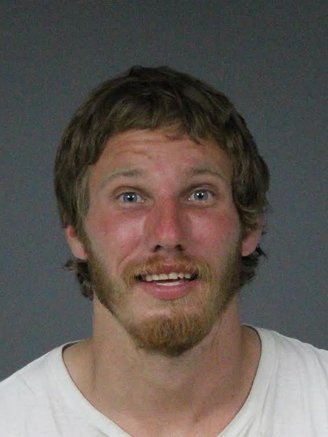 Judge Christopher Wilson advised Harrison he has been charged with "willful, premeditated, deliberate first-degree murder," along with a firearm enhancement that can add 25 years to life to any sentence.
Harrison did not enter pleas. Because of the seriousness of the charges, Deputy Public Defender Ben McLaughlin told the judge he didn't want to proceed further today.
"Because it's a life-top case," McLaughlin said, " … before I make any decisions I would like to find out who is handling it."
He said Public Defender Marek Reavis will likely assign an attorney to the case Monday, and that lawyer can speak with Harrison before the arraignment is completed Tuesday. At that point Harrison is expected to plead not guilty and court dates will be set.
Deputy District Attorney Joel Buckingham has been assigned as the prosecutor.
Wilson set bail at $2 million for the 28-year-old Alderpoint man, saying he was basing that amount on "two separate life-top offenses."
Harrison seemed to be making an effort to look nonchalant, flashing a cheesy smile at a news photographer who started snapping photos when he entered the courtroom. As he sat in the jury box waiting for about a dozen other inmates to be arraigned, he yawned widely several times.
But he spoke loudly and clearly as the judge asked him whether he had hired an attorney and whether he wanted one appointed.
"No, Your Honor."
"Yes, Your Honor."
Harrison is accused of shooting 58-year-old Robert James Holtsclaw to death on Sept. 23, 2017, as Holtsclaw sat in his truck on Sixth Street in Alderpoint. Holtsclaw's passenger fled and called authorities.
Harrison was a fugitive for more than 8 months, despite an intense manhunt by the Humboldt County Sheriff's Department and other police agencies. In March he escaped naked or near-naked by jumping into the Eel River. Alderpoint residents were warned to stay inside with their doors locked.
On another occasion he managed to disappear into the woods as one of his friends was being arrested. Officers looked all night but couldn't find him.
During searches in the Alderpoint, Blocksburg and Rancho Sequoia areas, the Sheriff's Department arrested eight "known associates" of Harrison's. All but one had warrants out. The one without a warrant was found in possession of alleged heroin.
After successfully hiding out in his rural home territory for so long, Harrison was caught Wednesday afternoon in the Walmart parking lot at Bayshore Mall. Someone recognized him and called the Eureka Police Department.
The arrest came one day after Harrison's 28th birthday.
PREVIOUSLY