Note: This post has been updated and corrected to reflect that Assessor Mari Wilson is also running unopposed for reelection.
# # #
We, the bedraggled newshounds of Humboldt County, often can't report election results until the bleary-eyed wee hours following Election Day, but here at LoCO we're ready to go out on a limb and call seven 2018 "races" for elected county offices, 81 days before polls even open for California's June primary.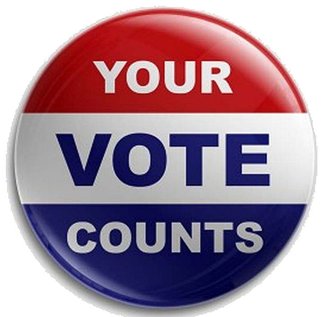 Yes, fingernails shall go un-bitten, antacids shall be granted reprieves, and celebratory cocktails shall be drunk months in advance as each of these races has but a single candidate. Not great for political intrigue — nor, perhaps, for democracy — but no doubt a relief to the nominees, all of whom are incumbents.

Here, in no particular order, are LoCO's projected winners at this early stage:
Congratulations, all.
Wednesday marked the deadline for candidates to qualify for the ballot in races where the incumbent did not file for reelection. Such was the case for Humboldt County Auditor-Controller Joe Mellett, who had already announced his intention to retire. And lo! There's an actual race for his seat! Assistant Auditor-Controller Karen Paz Dominguez, who filed her papers back in November, will face off against Michael Lorig, who has worked as an accountant in the Auditor-Controller's office Department of Health and Human Services since at least 2011, according to data compiled by Transparent California.
[Addendum: Lorig ran for this office in 2010, losing to Mellett by a margin of 68 percent to 32 percent.]
Humboldt County Superior Court Judge Dale Reinholtsen also chose not to seek reelection (having retired last year), and here, too, we'll see an actual competitive race as Lawrence Killoran, a partner with Eureka firm Scott, Robinson and Killoran, faces off against attorney Lathe Gill, who has worked with organized labor and the California Teachers Association.
Then there are the county supervisor races, which will be contested and which we'll report on more thoroughly in the days and weeks to come. Quickly, though, in case you're just catching up: Fifth District Supervisor Ryan Sundberg will be challenged by Steve Madrone, a watershed management expert. And Fourth District Supervisor Virginia Bass will face two challengers — cannabis consultant Dani Burkhart and teacher/former Obama campaign organizer Mary Ann Lyons.
All of those races remain TOO EARLY TO CALL by about two-and-a-half months. But barring any unprecedented write-in campaigns, the rest of the county races are pretty much sealed.
Fleming may have scared off any potential challengers by avoiding any major controversies in her first term and by walloping a crowded field of contenders four years ago, when she took 61 percent of the vote in a four-way race. By gathering more than half the total vote she was able to skip right past a run-off election. In her first term as DA she has staffed-up the office with both new and seasoned attorneys, and her apparent popularity has remained steady as her office prosecuted an array of high-profile murder trials.
William "Billy" Honsal, III, who nearly five years ago was hand-picked as the heir apparent by former Sheriff Mike Downey, remains respected and well-liked after having controversy land in his lap shortly after he was appointed sheriff-coroner-public administrator. The California Department of Justice is still investigating systemic corruption in the Public Administrator's Office involving the sale of dead people's belongings to Sheriff's Office employees. The activity dates back years, and by all accounts Honsal has been transparent and cooperative with both media and investigators.
Hartley was appointed Humboldt County Superintendent of Schools more than a year ago following an intensive interviewing process at the Humboldt County Office of Education.
As for Elvine-Kreis, he worked in private practice before spending roughly seven years at the Humboldt County Public Defender's Office, where he was supervising attorney from 2013 until his judgeship appointment last year.
Sanders, Wilson and Bartholomew all ran unopposed four years ago, and they each took more than 99 percent of the vote. Easy-peasy.
# # #
One last thing, since we're here and talking about elections: The Humboldt Democratic Central Committee met last night to consider endorsements, and they made some!
Notably, however, they voted not to endorse Bass in the Fourth District, but they also couldn't reach the 60 percent support threshold required by HCDCC bylaws to endorse either of her two challengers. So there will be no HCDCC endorsement in the Fourth District.
Here's their press release:
Humboldt County Democrats endorse Steve Madrone, Karen Paz Dominguez and Lathe Gill

The Humboldt County Democratic Central Committee (HCDCC) endorsed Steve Madrone for Humboldt County 5th District Supervisor, Karen Paz Dominguez for Humboldt County Auditor-Controller and Lathe Gill for Humboldt Superior Court Judge at the HCDCC March meeting.

The election will be held June 5th, 2018. The HCDCC Communication and Education Committee will meet March 28th at 5:30 pm at HCDCC Headquarters at 129 5th street in Eureka to discuss endorsement of a Resolution to support a Humboldt County Sanctuary Ordinance. All Democrats are welcomed to attend.