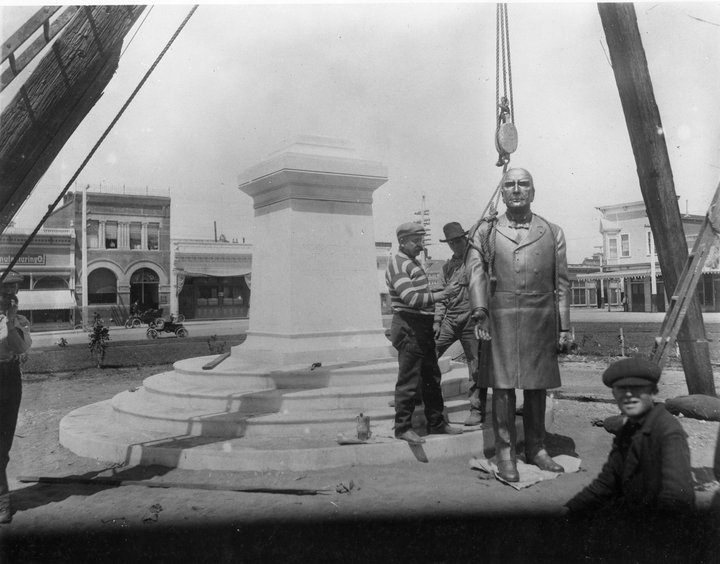 City of Arcata press release:
A public scoping meeting regarding the removal of the McKinley statue will take place on Thursday, May 17 at 6 p.m. at the D Street Neighborhood Center (1301 D Street).

The current scope of the removal project as determined by the Arcata City Council on February 21 is to remove and store the statue, and amend the City's General Plan, which identifies the McKinley statue as a part of the Plaza Historic District.

Because the statue is identified as an historic feature of the Plaza, the City must complete an Environmental Impact Report (EIR) prior to taking further action. The EIR describes the potential impacts of removing the statue prior to its removal.

The May 17 scoping meeting will initiate the EIR process and gather community input. The Community Development Department will present a project summary, discuss project alternatives and consider recommendations made by community members.

Further steps include preparing a draft EIR; circulating it for comment from the public and other agencies; responding to community input; preparing findings; and presenting the findings to the Planning Commission, which will make a recommendation to the City Council. Commission and Council meetings are open to the public.

Public input regarding environmental impacts, or suggestions for alternatives for the statue, should be forwarded to Alyson Hunter, Senior Planner, at ahunter@cityofarcata.org.

All interested community members are invited and encouraged to attend the Scoping Meeting.
PREVIOUSLY: