Judge Dale Reinholtsen is expected to issue a ruling any day on whether murder suspect Hector Godoy-Standley has the mental capacity to stand trial.
Doctors at Napa State Hospital found the 23-year-old Eureka man capable of helping his attorney, Russ Clanton, with a "rational defense." Clanton strongly disagrees, saying at a hearing challenging the state's finding that he is so convinced Godoy-Standley is incompetent, he has ethical concerns about going forward with the case.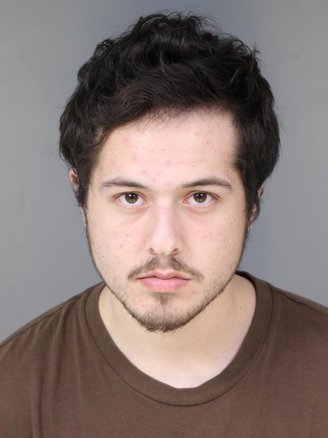 Godoy-Standley was one of five people charged with murder after 20-year-old Tyson Eduardo Claros was shot dead during a carjacking in December 2016 near Manila. It's believed Godoy-Standley drove the car carrying the alleged shooter and three other young Eureka residents. The fifth suspect was in a car with Claros.
Godoy-Standley spent several months in "competency training" at Napa after Dr. Andrew Renouf, a local clinical and forensic psychologist, found him incompetent. Napa doctors ultimately disagreed and sent him back to Humboldt to face charges.
As to the state standards for competency? According to doctors' testimony at the hearing, Godoy-Standley was moderately well-groomed, alert and oriented, could speak in complete sentences and was observed operating a remote control, playing ping-pong and having a conversation with another patient.
"He was able to understand (hospital) policy, advocate for his personal needs, track what was happening on TV," Napa clinical psychologist Dr. Frank LaWatsch testified under questioning by Deputy District Attorney Carolyn Schaffer.
Also, LaWatsch said, at one point when being questioned about court proceedings, Godoy-Standley began answering correctly but then stopped and said "Wait. Is this to see if I'm competent?"
When told it was, Godoy-Standley proceeded to provide nonsensical, derogatory responses.
LaWatsch said Godoy-Standley tried to help other patients with their criminal cases, including discussing the potential consequences of entering an insanity plea.
Given his limitations, LaWatsch testified, Godoy-Standley "had shown the ability to understand the nature of criminal proceedings and the ability to assist counsel in the conduction of a rational defense."
Those are the two legal "prongs" for determining mental competence. The defense concedes Godoy-Standley understands the nature of criminal proceedings, though Clanton says that's only from rote memorization and "parroting" back what he has learned. Implementing that knowledge is another issue, Clanton said.
During his time at Napa Godoy-Standley refused to discuss police reports or the specifics of his alleged crime, though he said the charges against him were "Freakin' bad."
"Perhaps the most compelling evidence that he's able to assist his attorney," said Napa psychologist Dr. Trevor Mackin, "is that over several months he was able to adhere to his attorney's advice not to discuss his case."
During the hearing, Clanton implied repeatedly that doctors at Napa aren't prepared to deal with the developmentally disabled. Nearly all patients at the hospital have been diagnosed with mental illness and can often be treated with medication.
Godoy-Standley's mother, Tanya Standley, testified her son attended special education classes from kindergarten through his senior year at Eureka High School. He began receiving Social Security Disability benefits at age 7, she said, and continues to receive them. He has never lived on his own, though he lived briefly with his then-girlfriend Catherine Fode, her 3-year-old daughter and Fode's older sister and brother-in-law. That living arrangement ended when Fode and Godoy-Standley were arrested.
Fode was also charged with murder, but has pleaded guilty to voluntary manslaughter and agreed to testify against her co-defendants, including her former boyfriend.
As far as Tanya Standley can remember, Godoy-Standley has had one job. A local casino hired him, and when he was unable to perform the required duties he was given a job he could handle.
"He transferred clothes from the washer to the dryer," she said.
The mother said she has always paid her son's bills, because "he can't comprehend how money comes in and money goes out."
Renouf testified Godoy-Standley has an IQ of 72, which in his opinion qualifies him as developmentally disabled. The average IQ is about 100.
"Mr. Standley-Godoy (a name he also uses) has a cognitive condition from birth," Renouf said. "He has had significant difficulties in his cognitive abilities, his intellectual abilities and his social abilities."
Godoy-Standley, through his competency training at the hospital, is familiar with legal concepts such as the "Three Strikes" law and plea bargains. He also understood he could be sent to prison for life if convicted, though he was hazy on the specifics.
"He thought if he was found guilty he would be sent to San Quentin for three months and then be given a list of prisons he could pick from," Renouf testified under questioning by Schaffer. "His first pick was Napa State Hospital because he thought the conditions there were quite good."
Renouf acknowledged Godoy-Standley was able to get a driver's license, and with a lot of prompting from the doctor he explained his reasoning for being the driver during the alleged murder and carjacking.
At that point Judge Reinholtsen asked whether Godoy-Standley was able to accurately recount the events leading up to the crime. Renouf said yes, although it took a lot of effort on his part because Godoy-Standley was interested in providing irrelevant information, such as where he ate fast food that night.
"If you were able to do that," the judge said, "why would that render him unable to aid his attorney?"
Renouf responded that in addition to the usual standards for competency, he also considered the seriousness of the crimes and the complexity of the case.
He later repeated that, prompting prosecutor Schaffer to ask him "Are you raising the bar for competency?"
"That's a great question," Renouf said. "I'm not raising the bar; I'm raising the issue."
In the meantime, co-defendants Brandon James Mitchell, Cesar Octavio Valenzuela-Campos and Tamara Nicole Thomson are scheduled for trial in March. Mitchell is the alleged shooter, reportedly killing Claros because he believed he had molested Mitchell and Fode's young daughter.
Depending on Reinholtsen's ruling, Godoy-Standley may or may not be joining them at trial.
###
PREVIOUSLY: