[Warning: The story below contains details concerning two cases of alleged child molestation.]

# # #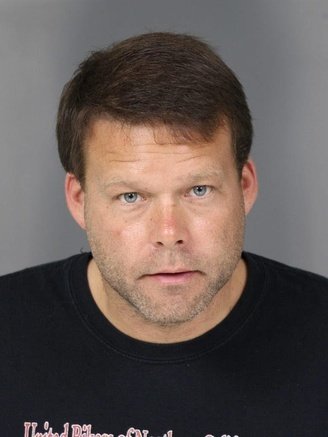 A Eureka teen who says Chad Alan Smith sexually abused her for years is not the innocent victim she appears to be, Smith's attorney told a jury during opening statements on the first day of Smith's trial.

Andrea Sullivan, representing the 44-year-old Smith on charges that could put him in prison for life, said Jane Doe One had a crush on Smith and didn't start claiming she'd been molested until after he warned her about having a crush on him.
Sullivan quoted Doe One as telling someone "I can play my mom and my dad and pretty much everyone."
During the time the girl was allegedly being molested by Smith, she also began a "sexually explicit' online correspondence with a man who called himself Michael Stevenson, who was in his 30s and lived in England, Sullivan told the jury.
Deputy District Attorney Stacey Eads, in her opening statement to the jury, laid out all 16 charges against Smith. Four of those charges are violation of a restraining order Doe One's mother obtained against him. The rest involve numerous alleged sex acts with Doe One, and one incident involving an 11-year-old friend of Doe One.
The most serious accusations are that Smith molested Doe One when she was 10 years old. He allegedly fondled her and had her perform oral copulation on him. Smith allegedly had vaginal intercourse with the child when she was 11, wrapping his penis in Saran wrap because he didn't have a condom. The sex acts, including sodomy, reportedly occurred regularly until Doe One was 14.
Eads said most of the molestation occurred at home, but also took place in various motels and even in the office of the restaurant Smith owned.
Smith and the girl had nicknames for each other, Eads said. Doe One was "Kitten" and she called him "Master."
Defense attorney Sullivan said Smith is "a flawed person who's made a lot of mistakes, but sexually abusing children is not one of them."
Eureka police began investigating Smith after Doe One's mother found a journal entry in which her daughter described the first time Smith had ever touched her. She wondered what her life would be like if that had never happened.
Sullivan said, however, that the entry simply shows the girl's ability "to craft a story form about her life."
Smith kept in contact with the girl because the restraining order prevented him from seeing his biological son, Sullivan said, and the communication had become "a window into his son's life."
She acknowledged "a perhaps desperate" Smith goaded the girl into wreaking havoc in her mother's life.
In a secret e-mail account later discovered by law enforcement, Doe One reportedly kept saying inappropriate things to Smith.
"He tries to set boundaries," Sullivan said. "When she becomes overtly sexual with Mr. Smith, he tries again to set boundaries."
At one point Smith e-mailed the girl and said he was afraid she had a crush on him and it was inappropriate.
"It was around this time that she started disclosing she was abused," Sullivan said.
Doe One was interviewed twice by the Child Abuse Services Team. The first time she flatly denied being abused by Smith. During the second interview she provided details.
Sullivan was skeptical that Doe One had full intercourse at age 11. But she said that will never be known, because the teen was not examined.
"This is outrageous considering the charges," she said.
During Smith's preliminary hearing, Doe One said she was in love with Smith and wanted to leave her mother's home and live with him. Eventually she realized she didn't love him and he was manipulating her.
Testimony was expected to begin today with Doe One, now 17, taking the witness stand. Because The Outpost covered the victims' testimony in detail during Smith's preliminary hearing, the plan is to cover the closing arguments and verdict in the case.
Smith has been in Humboldt County Correctional Facility for nearly two years. His first trial ended in mistrial when the defense attorney declared a last-minute conflict.
# # #
PREVIOUSLY