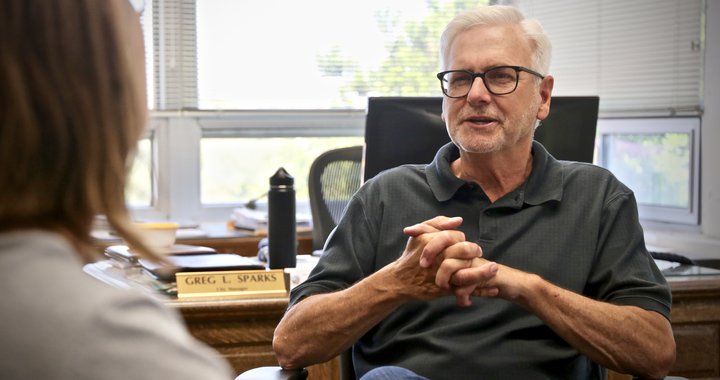 After asking Eureka city employees about working with City Manager Greg Sparks, there seems to be a general consensus about him: he is a level-headed guy. This is a valuable trait to possess when overseeing all of the city's affairs and working on sometimes turbulent issues in Eureka.

After five years of serving this role in Eureka and nearly 40 years serving in city administration, Sparks announced yesterday morning his plan to retire at the end of this year.

"He was a steady, even hand," former Eureka Mayor Frank Jager told the Outpost yesterday. "He was good with balancing the different perspectives the council had. He was always available and willing to talk about any issue."

Jager was mayor when Sparks was hired in 2014 and had the chance to work with him for four years. Between his time on council and his time as mayor, Jager has worked with quite a few managers, and said that Sparks is one of the best.

"The city's gonna miss him," Jager said. "He'll be a tough person to replace because of his ability to work with people."

Originally hailing from Des Moines, Iowa, Sparks moved to California to be closer to his children, who lived here at the time. Sparks has served as manager of eight different cities during his long career. He said that although about 75 percent of the job is the same no matter where he is, each city certainly has its unique challenges.

The Outpost took a look back at a few of the high profile, often controversial projects that Sparks helped steer the city through during his relatively short time in Eureka.

The Palco Marsh Cleanup

One particularly difficult undertaking the city faced was in May of 2016, when a huge number of homeless people were forced to vacate the Palco Marsh.

The project was a huge team effort, Sparks said, which required the involvement of nearly every city department. He said that the city had been planning to dismantle the encampments and clean up the marsh for about a year, knowing that this would be necessary for the completion of the Waterfront Trail.

"One of the things that led up to it was the amount of environmental degradation," Sparks told the Outpost. "People [were] living back there with no water or electricity. The results were pretty much what you'd expect from that."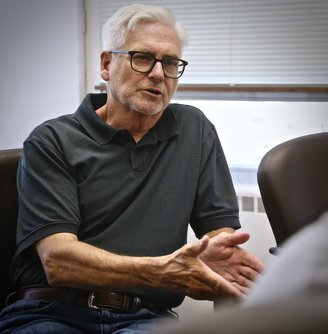 Sparks said that one of the most difficult aspects of this project was finding someplace for the homeless people to go. The city tried setting up temporary sleeping areas, but with multiple complaints from nearby neighbors that program was quickly ended.
One of the positive things that came out of the process, Sparks said, was Betty's Blue Angel Village — a housing complex built of shipping containers that provides short-term housing for homeless people. The City of Eureka provides half the funding for Betty Chinn's project, which has been seen by many as a huge success.

Syringe Exchange and HACHR

Another problem facing Eureka, one that was seemingly exacerbated around the time of the Palco Marsh vacation, is needle litter.

In March of 2016, the Eureka City Council adopted a resolution allowing the Humboldt Area Center for Harm Reduction to operate a syringe exchange program in the city. With many community members reporting an increase in needle litter at that time, HACHR was seen by some as the problem and a huge, often heated public dispute ensued.

Eureka City Council Member Kim Bergel said that Sparks served a vital role in helping the council to make decisions surrounding syringe exchange, and was particularly helpful in facilitating the relationship between HACHR and the city.
"He was able to support us to build a more healthy, sustainable relationship," Bergel told the Outpost. When she was having issues when communicating with HACHR founder and then-Executive Director Brandi Wilson, Sparks set up a sit-down for them. "I talked to Greg about it and he mediated a meeting between the two of us. I think that's above and beyond."

Sparks also helped with the formation of the Syringe Advisory Committee, which brought together several stakeholder groups and community members. Sparks is also proud of the Syringe Management Ordinance the city adopted in 2018, which Sparks said, from a California Department of Public Health standpoint, is a "model ordinance." The City of Fortuna even used it as a model when drafting its Syringe Exchange Ordinance.
The Slumlord Crackdown

In 2015, after years of battling with the owners of multiple dilapidated buildings, Floyd and Betty Squires, the City of Eureka issued a warrant for the closure of the Squires' owned Blue Heron Motel on Broadway.

Over the next couple of years the city continued to close multiple Squires properties, due to numerous code violations, crime and safety hazards. In 2017 neighbors filed and won an insurance settlement from the Squires over the nuisance condition of two properties on G Street in Eureka.

Eventually, Floyd Squires filed for bankruptcy. Sparks said the city was a very big player in this process and wanted to ensure that Squires "wasn't able to just walk away and pocket the dollars."

Sparks said that the city accrued a lot of costs from this process. But, as the properties are selling, the city is gradually being reimbursed. Sparks looks forward to seeing the various properties rehabbed or torn down and redeveloped.

Budget Reform

When Sparks entered the job as Eureka City Manager, he was faced with the common and unpopular task of making budget cuts. Sparks said that when he started, the city was behind on budget cuts. For the first two years of Sparks management the city had to make a lot of cuts and eliminate several staff positions.

Eureka Community Services Director Miles Slattery said that he felt one of Sparks' biggest challenges was stepping into a city with a lot of budget issues. Slattery feels that Sparks did an excellent job making budget cuts and explaining why they were necessary.

"That should be his claim to fame," Slattery told the Outpost. "We still have financial problems. But we're aware of those problems."

Though budget issues are an ongoing problem, Sparks does feel that he's leaving the city in better shape than when he came in. Though layoffs were necessary in the first couple of years, Sparks says there have not been layoffs for the last three years.

The city has also been able to increase staffing again to some departments, such as Humboldt Bay Fire. After needing to temporarily close one of its stations due to low staffing, the Fire department was able to reopen the station about a year ago.

###
For whoever steps into this job after him, Sparks hopes that they will continue working on the city's fiscal issues and will prioritize working towards long term solutions for homelessness.

Sparks will be assisting in the recruitment process and says the city will be doing a national search to fill his position. Though Sparks didn't want to name anyone specifically, he believes there are also some good potential candidates on the city staff.

One of the things Sparks will miss the most about working for the City of Eureka is the true collaboration between staff and the city council. "This is a good council to work for," Sparks said. "They really view the city manager and department heads as a team and, quite frankly, that is not true in a lot of cities."

And it is clear that the feeling is mutual.

"I'm sad that he's leaving, he is and has been such a good mentor and asset to our community," Councilmember Bergel said. "I think the reason we've had as much success in Eureka in last four or five years has been because of his leadership and ability to bring people together."
###