David Bernard Anderson II was sentenced this morning to five years in state prison for a November 2018 sexual assault on a 16-year-old Eureka girl.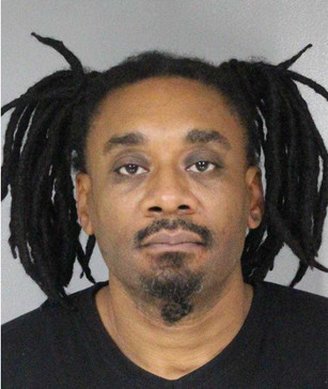 Judge Christopher Wilson sentenced Anderson to a total of five years for attempted pandering, false imprisonment and sexual intercourse with a minor. The prison term was agreed to when the 49-year-old Anderson pleaded guilty to those charges. Rape charges were dismissed.
Pandering is defined as procuring another person for prostitution.
Anderson will serve only a few months of the sentence because he was given credit, including good-time credit, for more than four years served in Humboldt County Correctional Facility. Wilson ordered Anderson to register as a sex offender for 10 years.
Deputy District Attorney Stacey Eads, the prosecutor in the case, told Wilson she believes Anderson is at high risk for committing the same crimes in the future. But "the heart of the matter" when agreeing to the plea deal was protecting the young victim from further trauma.
"The necessity of her having to testify would have been an extremely trying, traumatic experience for her," Eads said.
Eads also read a statement from the girl's mother, who said her daughter is suffering.
"I've seen the pain," the mother wrote. "I've watched my daughter go from being full of life to being empty."
During Anderson's preliminary hearing, a Eureka police officer who interviewed the teen said she reported she was walking alone when Anderson offered her a ride. She said he drove her to his apartment, took her clothing and cellphone, raped and sodomized her and forced her to perform oral sex. She said he also told her "I could make a lot of money off you."
The girl's mother wrote that her daughter has constant nightmares and is homeless because she's afraid to stay in one place. When her mother convinces her to spend the night at her home, "I'm up all night comforting her because of the nightmares."
Anderson was convicted of human trafficking of an underage girl in 2014 and served three years in prison. He also has another alleged victim, who goes by the name Elle Snow. Anderson was never charged with crimes against Snow.
Snow, now 36, spoke to the court today via Zoom, saying Anderson abducted her when she was 19 and subjected her to an eight-month ordeal.
"I was sold to hundreds of men," Snow said. "I'll never know how many." She said she eventually escaped, but "I live a life of trauma."
She's afraid to get close to someone, because she's terrified something will happen to them. That's why she doesn't want children, or even pets.
Snow also testified against Anderson during his 2014 trial. The victim in that case also was 16.
"It's my wish that we don't have to do this again and we don't have another girl like me," Snow said.
When the plea bargain was negotiated, it was agreed Wilson could make the decision on whether to order Anderson to register as a sex offender. Today, explaining his decision, he said this was not the first time Anderson, who is almost 50, has been accused of sex with a minor.
"Mr. Anderson has a propensity for similar or related crimes," Wilson said.
Defense attorney Michael Acosta questioned Wilson on whether he would also have to register if he moved out of California.
"I can't make any order in other states," the judge said, adding each state likely has its own regulations. Acosta then asked whether Anderson will be allowed to leave California.
"That will be up to Parole," Wilson said, referring to the state parole board. Anderson will be on parole for a maximum of three years.