Jeffry Lee Tsarnas, father of a 14-year-old girl who was killed by a hit-and-run driver, was found guilty this morning of felony hit-and-run for failing to stop his car after he struck and seriously injured a pedestrian on Fernbridge.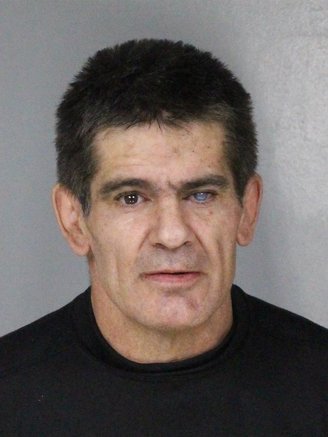 The jury, after a total of about 10 hours of deliberation over several days, returned the verdict about 11:30 a.m. Tsarnas did not visibly react. He is scheduled for sentencing April 26 and faces a maximum penalty of three years behind bars and a fine of $10,000. [UPDATE: A press release from District Attorney Maggie Fleming's office contradicts this somewhat — it says that Tsarnas could face four years in prison.]

Judge Timothy Canning declined Deputy District Attorney Steven Steward's request that, given the jury's decision, Tsarnas be immediately taken into custody. Defense attorney April Van Dyke called that "absolutely unnecessary," saying Tsarnas has almost no criminal history and has shown up for every court hearing.
The Fernbridge hit-and-run occurred in November 2018 and Tsarnas has remained out of custody. During the trial, it became clear Tsarnas knew his car hit something on the bridge about 5:30 p.m. When he arrived at Bear River Casino 10 minutes later, he got out of the sedan and immediately inspected the front end for damage.
Also, when he returned home about midnight and his then-girlfriend realized the driver's side mirror was missing from the car, he explained he hit something on the bridge. He thought it might have been a dog, or a chunk of wood.
The mirror was found on Fernbridge and was turned over to the California Highway Patrol. Tsarnas went to the CHP office the next day and admitted he was the driver.
Van Dyke argued that the main prosecution witness, Tsarnas's ex-girlfriend Barbara Craft, lied about statements Tsarnas made after the incident. The couple broke up within days of the collision, and Craft went from seeming supportive of Tsarnas to repeating self-incriminating remarks she said he had made.
Among those, Craft testified, were that after he got home from the casino he said at one point, "I hope I didn't hit a person." Also, she told the CHP that Tsarnas admitted to her he spilled his milk-and-brandy cocktail on the car's floor when he hit the object on the bridge, and he knew he'd struck a person but wasn't going to tell law enforcement.
One witness testified the car that hit the woman on Fernbridge was traveling up to 60 mph and didn't slow down afterward.
The victim, Marie Kelley, suffered a broken ankle and foot. Tsarnas's insurance company settled with Kelley out of court.
A little more than two years before the Fernbridge hit-and-run, Tsarnas's daughter Faith Lorraine Tsarnas was killed when struck by hit-and-run driver Marci Kitchen. Kitchen's own 14-year-old daughter was with Faith and also died.
PREVIOUSLY: