A Hydesville man convicted of killing and butchering a pet pig in Arcata two years ago is back behind bars, this time accused of drug and weapons violations.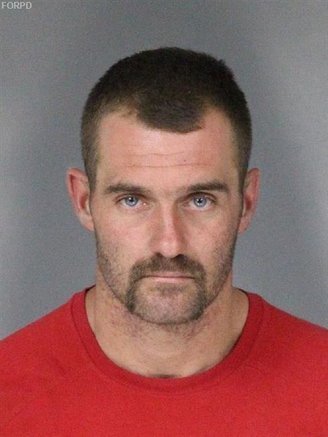 The California Highway Patrol arrested Jeffrey Cody Miller, 34, on March 31 on a bench warrant charging him with violating the terms of Post Release Community Supervision. At the time of his arrest, the CHP officer found a firearm, drugs and ammunition in his vehicle.
Miller was arraigned today on charges of possessing a controlled substance while armed with a firearm, being a felon in possession of a firearm, being a felon in possession of ammunition and driving without a valid license. Judge Larry Killoran advised Miller the first three charges include the special allegation that he has prior felony convictions.
His latest conviction was for animal cruelty, the charge filed after Miller shot Princess the Pig in the head, then cut her up and packaged her. The pig had escaped from her pen on Park Avenue, and an Arcata police officer asked Miller to watch her while the owners were being tracked down. But after a few hours Miller decided the time was up and killed the pig.
Miller also was convicted at that time of being a felon in possession of a firearm, namely the gun he used to shoot Princess. And he was ordered to pay $4,000 in restitution to Princess's owners.
At a court appearance last week, Miller said he was planning to hire Eureka attorney Michael Acosta. Today Miller said he is in quarantine (apparently for exposure to Covid 19) and is having a hard time reaching Acosta. He asked that an attorney be appointed for now.
Killoran appointed the Conflict Counsel's Office to represent him, and Deputy Conflict Counsel Owen Tipps entered not guilty pleas on his behalf. The preliminary hearing is scheduled for April 14. Miller is being held without bail because of the allegation that he violated the terms of his supervised release.
Deputy District Attorney Emily Norgaard was in court today for the prosecution.
PREVIOUSLY: