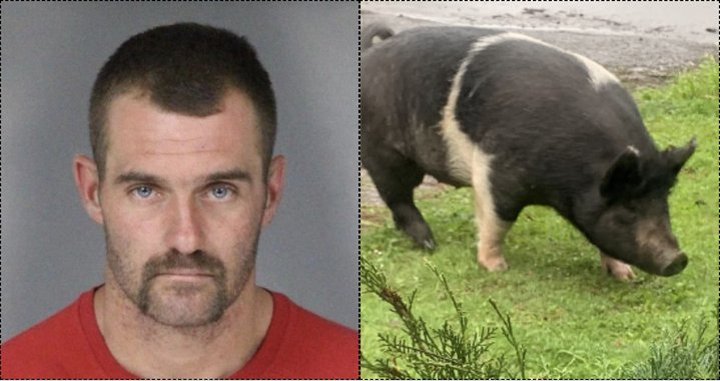 The Hydesville man who shot and butchered Princess the Pig in March 2019 was ordered today to pay $4,000, or $10 a pound, in restitution to her owners.
Judge Christopher Wilson issued the order this morning to Jeffrey Cody Miller, who killed Princess after she escaped from her home on Park Avenue in Arcata. An Arcata police officer asked Miller to temporarily care for Princess. But when Miller figured his time was up, he shot the pig in the head. He was butchering her when the officer arrived to tell him the owners had been found.
Miller ultimately pleaded guilty to animal cruelty and being a felon in possession of a firearm and was sentenced to two years and eight months in state prison, said Deputy District Attorney Whitney Timm, who prosecuted the case. Another man at the scene, Ed Ramos, pleaded to a misdemeanor charge of possession of stolen property. Ramos, 59, was in possession of some of the pork.
Timm said Ramos's charge will be dismissed in one year, provided he obeys all laws.
Princess's owners had requested $18,000 in restitution, but Wilson said this morning that amount would be "a windfall," which is not the purpose of awarding restitution.
Under the state's Food and Agriculture Department rules, a judge may award up to quadruple the amount of the animal's value.
Wilson noted Princess was genetically superior and "not a run-of-the-mill pig." She was a purebred, and her owners had invested "a great deal of care" in their pet.
"I do think considering the special care and special qualities of this particular animal," the judge said, "I will value her at $4,000."
Although the 33-year-old Miller was sentenced to state prison, for now he remains in Humboldt County Correctional Facility. He also has cases pending in Trinity County.
PREVIOUSLY:
###
In other court news, a Tennessee man charged with beating a mentally ill man to death in September 2019 is himself not mentally competent to stand trial, Judge Christopher Wilson ruled this morning.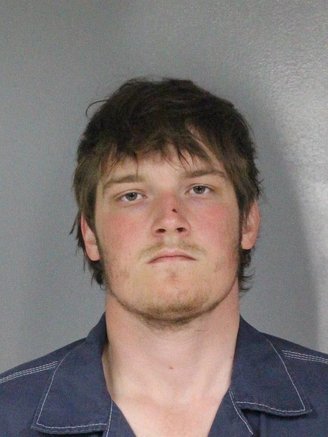 Wilson said criminal proceedings will remain suspended against Connor O'Neal Whited, charged with beating 55-year-old Brett Keiling to death with a club. The badly injured man was found Sept. 26 in an Old Town alley and died 12 days later.
Dr. Jennifer Wilson, a Eureka psychiatrist, evaluated Whited after his attorney, Deputy Conflict Counsel April Van Dyke, declared a doubt about his competency on July 8. The judge and attorneys received her report today.
Whited, 23, is from Tennessee. Keiling was a lifelong Indiana resident who had recently moved to Eureka. He had a long history of mental illness and criminal activity, including a federal indictment in 2011 for threatening to stab an employee of then-Rep. Joe Donnelly.
This morning Wilson referred Whited for an evaluation on the possible use of anti-psychotic medication. He also was referred to Conrep, a state agency that will determine where he will be placed for treatment.
Generally inmates are sent to Napa State Hospital, where they stay until doctors there determine their competency has been restored.
Reports are due back to Wilson by Aug. 20.
PREVIOUSLY: