Jurors will begin deliberating this afternoon on whether Jeffry Lee Tsarnas fled the scene after the car he was driving struck and injured a woman walking on Fernbridge on Nov. 27, 2018.
The jury must decide whether Tsarnas, whose daughter was killed by a hit-and-run driver in July 2016, committed the same crime a little more than two years later.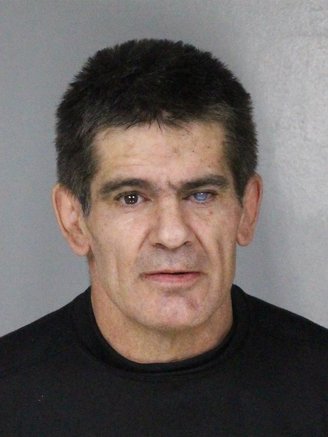 "He was driving on Fernbridge that night," Deputy District Attorney Steven Steward said during closing arguments this morning. "He knew he struck Marie Kelley. She was thrown to the side of the road. He headed directly to the Bear River Casino."
Video surveillance shows a sedan pulling into the casino parking lot about 10 minutes after Kelley was hit. Tsarnas "gets out and walks directly to the front of the car and inspects the damage," Steward said.
He pointed to statements Tsarnas allegedly made after the collision to his then-girlfriend, Barbara Craft, such as "I hope I didn't hit a person."
The driver's side mirror on the car was found on Fernbridge. According to Craft, Tsarnas wanted to replace the mirror and wait a few days before contacting law enforcement, because he wanted to make sure he wouldn't test positive for drugs.
But the couple went to the California Highway Patrol office the next morning, and afterward Tsarnas reportedly was relieved the car wasn't impounded because he'd spilled his milk-and-brandy cocktail on the floor.
"I'm glad I skated on that one," he told Craft. "I thought I was going to get in trouble."
Also, according to Craft, he admitted he knew he hit a person "but I'm not going to tell (police) that."
According to Kelley, she was hit from behind on her upper back, near her armpit. But her injuries ended up being a broken foot and ankle.
Steward argued it's unlikely Tsarnas didn't realize he'd hit a person when the impact tore off the driver's side mirror.
Kelley was "directly next to Mr. Tsarnas," Steward said. "He knew he hit Ms. Kelley."
One eyewitness testified she saw Kelley struck by a sedan that was moving about 60 mph, and the driver didn't put on the brakes.
Defense attorney April Van Dyke countered that the prosecution's case relies completely on Craft, who has no credibility.
Van Dyke played a video recording of Craft telling CHP Sgt. Matt Harvey that when Tsarnas arrived home about midnight, they discussed the missing mirror and he told her he'd hit something on the bridge. (During the discussion, Tsarnas speculated he'd hit a dog or a chunk of wood.)
"He didn't say anything else about it that night?" Harvey asked.
"No."
But at trial, Craft testified that shortly after she went back to bed, she heard Tsarnas say from the living room "I hope I didn't hit a person."
Craft also elaborated on that, saying she responded "I hope you did. It would serve you right."
She admitted during testimony that she wanted Tsarnas to get in trouble.
As for wanting to wait a few days before calling law enforcement, Craft initially told CHP that Tsarnas was shocked when she told him she'd read about a hit-and-run on Fernbridge, with the article featuring a picture of the side mirror found on the bridge. He immediately said "Who do I call?" Craft said.
"She was telling the truth then," Van Dyke told the jury. "She's not telling the truth now."
During the trial, Craft said she was sick in bed the day of the wreck, but when she realized her car was gone she began trying to reach Tsarnas on his cellphone.
In fact Tsarnas had no working cellphone, and Craft initially told law enforcement that "I didn't even know my car was gone until he got back."
The couple broke up within a couple of days of the bridge incident, and Van Dyke argued that explains why she changed her statements. Craft married another man just a few weeks after the breakup.
Van Dyke also took issue with Kelley's statement that she was struck on her upper back, saying the height of the side mirror doesn't correspond. She also questioned why the mirror had red paint transfer on it. That has never been explained, but there "was no red paint on Kelley."
The defense attorney also suggested another car on the bridge might have hit the woman. The eyewitnesses said there were two sedans on the bridge, both traveling about 60 mph.
In his rebuttal argument, Steward suggested that when you can't argue the facts or the law, you "pound the table." He told jurors that Van Dyke's argument was an example of table-pounding.
"You've heard an attack on Ms. Craft, an attack on the prosecution and an even an attack on the victim, Ms. Kelley," Steward said.
It actually doesn't matter who caused the incident, he argued.
"It was a question of who didn't stop … if you run over a squirrel or a mouse what's the first thing you do? Look in the rearview mirror."
Steward quoted Kelley as saying that if Tsarnas would have stopped "I would have felt just as bad for him as I did for me. Because there's no room on that bridge."
###