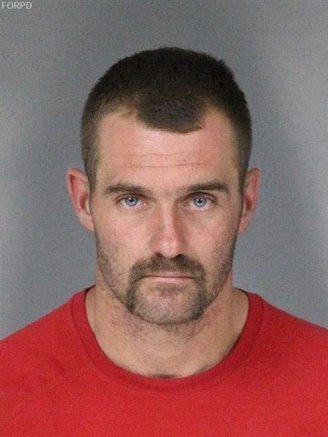 Hydesville resident Jeffrey Cody Miller, who will be remembered for killing and butchering a pet pig in Arcata, was sentenced this morning to three years in prison for committing more crimes while out of jail on supervised release.
Judge Kaleb Cockrum sentenced Miller to the middle term of three years after he pleaded guilty to possession of a controlled substance while armed with a firearm. Miller, 35, was arrested during a traffic stop on March 31. He was carrying drugs and had a loaded Smith and Wesson in his vehicle.
Miller was given credit for 204 days actually served and 204 days of "good time" credit. Cockrum also sentenced him to 180 days for violating the terms of his supervised release on the animal cruelty conviction, but that sentence will run concurrently with the three years.
An Arcata police officer asked Miller and another man to care for Princess the Pig while police were trying to find her owners. She had escaped from her pen and was wandering the Park Avenue neighborhood.
When Miller decided he had watched the pig long enough, he shot her in the head. He was in the process of cutting her up and packaging her when the APD officer returned to say the owners had been found.
Miller has already been ordered to pay Princess's family $4,000 in restitution.
He was represented this morning by Deputy Conflict Counsel Meagan O'Connell. Deputy District Attorney Roger Rees was in court for the prosecution.
PREVIOUSLY: