Saturday, June 15, 2013's Chowdown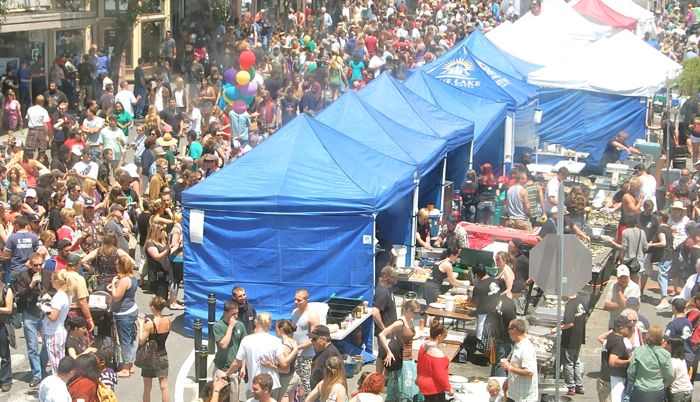 Well, this is it, kids. O-Day is here.
It's been nearly six weeks since it was revealed that this year's Arcata Main Street produced Oyster Festival would break with tradition, fence up the Arcata Plaza and charge ten bucks a head for the chance to fill your face with slimy invertebrates. Now we see who played their cards most strategically.
Will Arcata Main Street score with its promise of a less drunken, more orderly festival? Will attempts by Luke's Joint owner Luke Patterson encouraging people and businesses to boycott the event scare off the bivalve-adoring crowds? Will supervisor Rex Bohn projectile vomit raw oysters all over his constituents during the Shuck and Swallow contest? Did all the drama make you forget that Lyrics Born is performing, which is awesome? Needless to say, there's plenty of intrigue packed into Saturday.
We will all have answers Sunday.
-Andrew Goff
(P.S. If you missed the Lowdown's rundown of Oyster Fest after parties earlier this week, the Internet has saved it for you.)
Events
Restaurants
Eureka
Arcata
Eel River Valley
McKinleyville
SoHum
Trinidad
Blue Lake
---
Movie Showtimes
Broadway Cinema
AFTER EARTH: 1:15, 3:50, 6:25, 9:00
EPIC 2D: 12:25, 5:35
EPIC 3D: 3:00, 8:00
FAST AND FURIOUS 6: 12:30, 3:25, 6:20, 9:15
HANGOVER PART III: 1:50, 4:30, 7:00, 9:30
INTERNSHIP: 12:15, 2:00, 3:15, 4:55, 6:10, 7:40, 9:10
MAN OF STEEL 2D: 1:00, 4:25, 7:50
MAN OF STEEL 3D: 2:10, 5:30, 8:50
NOW YOU SEE ME: 11:50, 2:35, 5:20, 8:10
PURGE: 12:10, 2:30, 5:05, 7:25, 9:40
STAR TREK INTO THE DARKNESS 2D: 11:50, 2:40, 8:45
STAR TREK INTO THE DARKNESS 3D: 5:45
THIS IS THE END: 1:20, 4:00, 6:40, 9:20
Garberville Theater
Mill Creek Cinema
AFTER EARTH: 2:00, 4:30, 7:00, 9:30
EPIC 2D: 12:15, 2:45, 5:15, 7:40
INTERNSHIP: 12:25, 3:15, 6:05, 9:00
MAN OF STEEL 2D: 2:10, 5:30, 8:50
MAN OF STEEL 3D: 12:01, 1:00, 4:25, 7:50
NOW YOU SEE ME: 12:40, 3:30, 6:20, 9:10
PURGE: 12:35, 2:50, 5:10, 7:25, 9:40
THIS IS THE END: 1:20, 4:00, 6:40, 9:20
Minor Theatre
FRANCES HA: 12:35, 2:45, 4:55, 7:05, 9:15
INTERNSHIP: 12:50, 3:35, 6:20, 9:05
MAN OF STEEL 2D: 2:10, 5:25, 8:40