Bobcat Goldthwait Tonight in Arcata (VIDEO)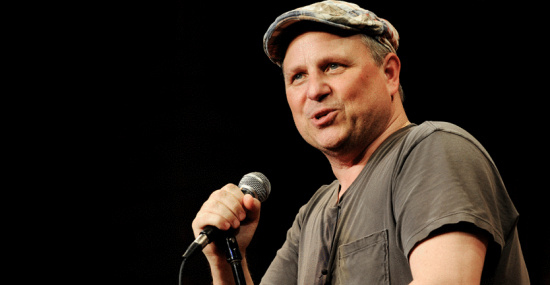 Bobcat Goldtwait is back, kids! It would appear that the acclaimed director didn't get enough Humboldt weirdness when he debuted his celebration of Bigfoot culture/horror film Willow Creek at the Arcata Theatre Lounge back in May — he'll be hanging at the ATL again tonight. The difference is this trip he'll be indulging in the art form that first made him famous his first love: standup comedy.
It's probably been noted to death at this point that the over-the-top look and persona the propelled Bobcat to fame in the '80s is no more, a fact he celebrates — his latest standup special was titled "You Don't Look The Same Either." So to get an idea of what you're getting into if you venture out to the Arcata Theatre Lounge tonight, the Lowdown will include the clip below.
-Andrew Goff
Events
Bigfoot Days
Willow Creek / noon
Go squatchin'. Three-day event includes food and craft booths, oyster feed, deep pit BBQ, logging contests, a petting zoo, kids bike race, lawn mower race, disc golf tourney and big ice cream social at the town museum, which houses the world's largest collection of Bigfoot curios.
View Comments
Movie Showtimes
Broadway Cinema
2 GUNS: 6:35, 9:20
DESPICABLE ME 2 2D: 1:50, 4:20
ELYSIUM: 12:05, 2:40, 5:30, 8:15
GETAWAY: 12:15, 2:35, 4:55, 7:20, 9:40
KICK-ASS 2: 6:50, 9:25
LEE DANIELS THE BUTLER: 12:00, 3:00, 6:05, 9:05
MONSTERS UNIVERSITY 2D: 1:15, 3:55
MORTAL INSTRUMENTS: CITY OF BONES: 11:50, 2:50, 5:50, 8:50
ONE DIRECTION: THIS IS US 2D: 4:00
ONE DIRECTION: THIS IS US 3D: 1:35, 6:20, 8:45
PLANES 2D: 11:55, 2:20, 4:40, 7:00
STAR TREK INTO THE DARKNESS 2D: 12:10, 5:45
THE WORLD S END: 12:45, 3:30, 6:15, 9:00
WE RE THE MILLERS: 1:00, 3:45, 6:30, 9:15
WORLD WAR Z 2D: 3:05, 8:40
YOU RE NEXT: 2:15, 4:45, 7:10, 9:35
Mill Creek Cinema
ELYSIUM: 1:10, 3:50, 6:30, 9:05
KICK-ASS 2: 6:40, 9:20
LEE DANIELS THE BUTLER: 12:00, 3:00, 6:00, 9:00
MONSTERS UNIVERSITY 2D: 1:20, 4:00
MORTAL INSTRUMENTS: CITY OF BONES: 11:50, 2:50, 5:50, 8:50
ONE DIRECTION: THIS IS US 2D: 8:00
ONE DIRECTION: THIS IS US 3D: 1:00, 3:20, 5:40, 9:10
PLANES 2D: 11:55, 2:20, 4:40, 7:00
WE RE THE MILLERS: 1:30, 4:10, 6:50, 9:30
YOU RE NEXT: 12:00, 2:25, 4:50, 7:15, 9:40
Minor Theatre
BLACKFISH: 1:40, 3:55, 6:10, 8:25
BLUE JASMINE: 1:50, 4:15, 6:40, 9:10
CLOSED CIRUIT: 2:20, 4:40, 7:00, 9:20