Does Your Band Play Any Original 'Squatch Songs? Wanna Maybe Play at the Finding Bigfoot Festival?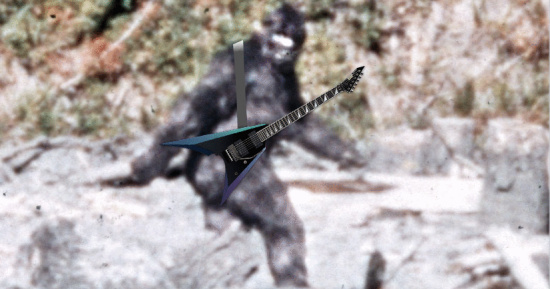 Couple of alerts for ambitious Humboldt musicians: We're approaching the April 11th submission deadline for pickers/grinners who'd like to be considered for a slot during this year's weeklong Humboldt Folklife Festival — more details on that here.
But news of another potential high-profile gig has found its way to LoCO. The production company behind Animal Planet's Finding Bigfoot show are in the process of planning a two hour-long series finale — they squeezed out nine seasons! — that will center around a festival taking place at Willow Creek's Veteran's Park this coming April 29. The idea behind the event? It's been 50 years since the Patterson-Gimlin film was shot at nearby Bluff Creek and you better believe we need to celebrate that piece of grainy, economy-boosting footage. Bobo and the gang are slated to attend. So there.
Here's where you (potentially) come in: The Finding Bigfoot Festival needs bands! If your group has original material (for licensing reasons) and would like to be considered for a slot — and maybe end up in the show — contact Cana. Also: Anyone seen bigfoot? Seems like finding bigfoot would be a good way to land this plane.
# # #
In other news, it's Tuesday and you like joy. As always, peruse your Lowdown listings below to find summa dat. In the off chance you like to drink beer and sway to jam bands, of particular interest to you will be tonights noodly offering at HumBrews, a twofer featuring The Werks and Brothers Gow. Sample how The Werks works in the YouTube clip below.
Events
Movie Showtimes
Broadway Cinema
BEAUTY AND THE BEAST 2D: 11:45, 1:10, 2:45, 5:45, 7:25, 8:45
BEAUTY AND THE BEAST 3D: 4:15
BOSS BABY 2D: 12:40, 3:10, 5:35, 8:00
BOSS BABY 3D: 12:00
CHIPS: 2:15, 4:40, 7:05, 9:30
DONALD CRIED: 1:05, 6:30
GET OUT: 1:45, 4:20, 7:00, 9:35
GHOST IN THE SHELL 2D: 11:50, 12:50, 3:25, 4:55, 6:00, 8:35, 9:45
GHOST IN THE SHELL 3D: 2:20, 7:20
KONG: SKULL ISLAND 2D: 12:55, 3:45, 6:35, 9:25
LIFE: 1:00, 3:35, 6:15, 9:00
LOGAN: 11:55, 3:00, 6:05, 9:05
POWER RANGERS: 12:30, 3:30, 6:25, 9:20
THE SHACK: 3:20, 8:50
Mill Creek Cinema
BEAUTY AND THE BEAST 2D: 2:45, 5:45, 6:25, 8:45
BEAUTY AND THE BEAST 3D: 3:30
BOSS BABY 2D: 3:05, 5:30
BOSS BABY 3D: 8:00
CHIPS: 4:00, 6:30
GHOST IN THE SHELL 2D: 5:35, 9:20
GHOST IN THE SHELL 3D: 2:55, 8:10
KONG: SKULL ISLAND 2D: 9:00
LIFE: 3:25, 6:00, 8:35
LOGAN: 3:00, 6:05, 9:05
POWER RANGERS: 3:20, 6:15, 9:15
Minor Theatre
BEAUTY AND THE BEAST: 3:30, 5:45
GET OUT: 5:15, 9:30
GHOST IN THE SHELL (2017): 3:00, 6:45, 9:00
JULIETA: 2:30, 8:00