FRIDAY LOWDOWN: Oh! Those Cars are Nice!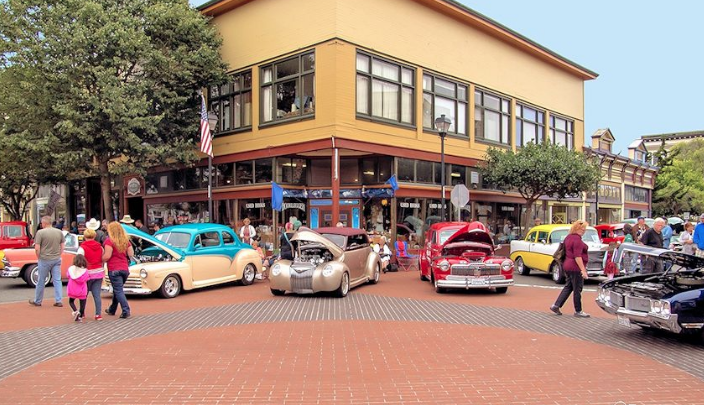 You may notice some schmancy, classic wheels rolling 'round Eureka this weekend. Fear not, you have not time traveled. It's just the return of Cruz'n Eureka, the annual car show benefit for Boys and Girls Club of the Redwoods.
Details on that and much else in your Friday Lowdown listings below.
Events
Movie Showtimes
Broadway Cinema
ALPHA 2D: 1:15, 3:40, 6:10, 8:40
BLACKKKLANSMAN: 12:15, 3:15, 6:20, 9:15
CHRISTOPHER ROBIN: 12:25, 2:55, 5:35
CRAZY RICH ASIANS: 12:20, 3:10, 6:00, 8:45
HAPPYTIME MURDERS: 2:30, 4:55, 7:20, 9:40
KIN: 1:25, 3:55, 6:25, 8:55
MEG, THE 2D: 1:05, 3:50, 6:35, 9:20
MISSION: IMPOSSIBLE - FALLOUT 2D: 11:45, 2:50, 5:55, 9:05
NUN, THE: 12:00, 2:20, 4:40, 7:05, 8:10, 9:30
OPERATION FINALE: 11:45, 2:35, 5:30, 8:25
PEPPERMINT: 12:55, 3:35, 6:15, 9:00
SEARCHING: 12:30, 3:05, 5:50, 8:30
Mill Creek Cinema
ALPHA 2D: 1:15, 3:35, 6:10, 8:35
CHRISTOPHER ROBIN: 12:15, 2:50, 5:25, 8:00
CRAZY RICH ASIANS: 12:20, 3:15, 6:00, 8:45
HAPPYTIME MURDERS: 12:00, 2:20, 4:40, 7:00, 9:20
MEG, THE 2D: 1:00, 3:50, 6:30, 9:15
NUN, THE: 12:05, 2:25, 4:45, 7:10, 9:30
PEPPERMINT: 12:25, 3:45, 6:25, 9:05
SEARCHING: 1:35, 4:05, 6:35, 9:00
Minor Theatre
BLACKKKLANSMAN: 2:00, 4:00, 8:35
BLINDSPOTTING: 3:40, 7:15
JULIET, NAKED: 1:00, 5:55, 9:00
LET THE CORPSES TAN: 9:50
MADELINE'S MADELINE: 1:30, 6:30