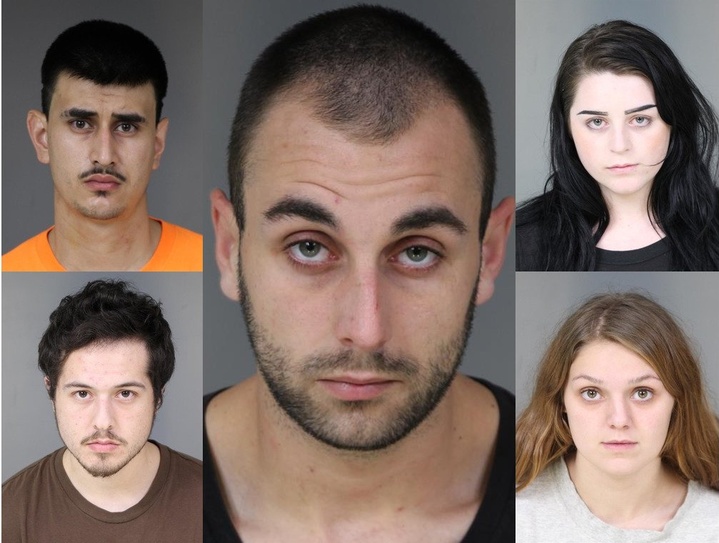 ###
Preliminary hearings have been postponed until February for the five people accused of murdering a 20-year-old Eureka man who was shot dead on Highway 255 .

Judge Joyce Hinrichs granted the continuances today for Eurekans Cesar Octavio Valenzuela, Tamara Nicole Thomson, Catherine Suzanne Lynn Fode, Hector Godoy-Standley and Brandon James Mitchell.

Mitchell, 21, is charged with shooting Claros multiple times, reportedly because he thought Claros had molested his and Fode's 3-year-old daughter. That allegation was investigated, according to Claros' family, but court records indicate that no charges were ever brought, presumably for lack of evidence. Fode, 18, and the other three defendants are accused of participating in the Dec. 12 slaying, with all of them packing handguns. All face life in prison if convicted.
During the hearing this morning, the 23-year-old Valenzuela looked downright jolly. He grinned broadly and rocked back and forth in his chair. His girlfriend, Thomson, 18, seemed to be trying hard to suppress a giggle. With her blonde hair in pigtails, she looked like an angelic child. It was hard to picture her with a gun in her hand.
But it allegedly was Thomson who set Claros up for what she described as "an ass-whipping." She had cooked up a story about wanting to be driven from Eureka to McKinleyville on back roads. She was in the back seat with a woman driving and Claros in the passenger seat. The driver told investigators Thomson pulled a gun and ordered her to pull over on state Highway 255. When she did, a red Dodge Dart pulled up and the other four suspects jumped out.
The driver ran but heard shots and saw Claros fall to the ground. She told investigators he was shot twice as he lay there wounded.
Valenzuela and Thomson took off in the woman's car, abandoning it a few miles north. It was there that investigators found the .22-caliber pistol Valenzuela had discarded. The two then traveled to Blue Lake with their friends, with the other guns reportedly being tossed out on Jackson Ranch Road.
Mitchell, the alleged shooter, and Godoy-Standley, Fode's current boyfriend, were handcuffed together this morning and seemed to be getting along well. Both are 21. They and Fode were somber during the hearing.
Valenzuela and Thomson were arrested first and gave statements implicating themselves and the other three. Thus far there there are two cases pending, one for Valenzuela and Thomson and one for the others.
Thomson and Valenzuela are scheduled for a preliminary hearing on Feb. 6. Fode, Godoy-Standley and Mitchell are set for their hearing on Feb. 16.
Mitchell is being held on $1.5 million bail, and the others on bail of $1.25 million.
###
PREVIOUSLY: