The much-delayed preliminary hearing on new charges against murder suspect Jon David Goldberg was continued again today, this time because alleged victim Rachel Goldberg could not be in court.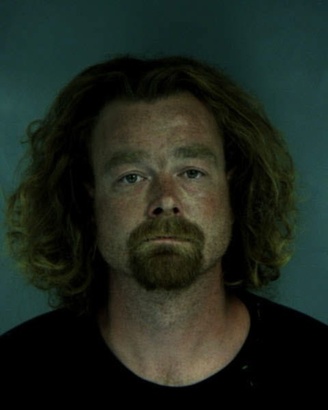 This was the first time Goldberg's wife Rachel Goldberg has been subpoenaed as a witness, because law enforcement had not been able to track her down. A couple of days ago she was found in Solano County, where a subpoena was served at her home. She has since spoken by phone to an investigator and said she would testify. But because of receiving such short notice she was unable to be in Eureka today.

This afternoon Judge Dale Reinholtsen granted Deputy District Attorney Luke Bernthal's motion to continue. The hearing is now set for April 27.
Jon Goldberg is accused of killing Fortuna resident Timothy Smith after finding out Smith, a close friend of his, was having an affair with his wife. The relationship came to light on Sept 25 when Smith's wife, Jessica Springer, found naked photos of Rachel Goldberg on his cellphone.
Smith, 42, was gunned down in his front yard the next day. The 36-year-old Goldberg was arrested later that day at his Bridgeville home. Months later the District Attorney's Office also charged him with brandishing a firearm and battering Rachel Goldberg.
Bernthal told Reinholtsen today that district attorney's investigator Gary Cooper has been looking for Rachel Goldberg since Feb. 8. Finally, this week, he was given an address in Solano County. Cooper went there and left a subpoena with another resident at that address who said Rachel lived there. Later she called Cooper and confirmed her identity.
Now that Rachel Goldberg has been found, it's unclear whether the prosecution still needs the testimony of often-summoned witness Frieda Smith. Waiting outside the courtroom today, she said this was the sixth time she has shown up but not testified.
The preliminary hearing has been delayed for a variety of reasons, with requests coming from both Bernthal and Deputy Public Defender Casey Russo.
###
PREVIOUSLY: