Billy Joe Giddings was sentenced today to 52 years to life in state prison for shooting an Arcata man to death during a marijuana transaction in May 2015.

Judge Dale Reinholtsen sentenced Giddings to 15 years to life for second-degree murder, 25 years to life for using a firearm during the commission of a homicide and 12 years for assault with a firearm on four people he held at gunpoint.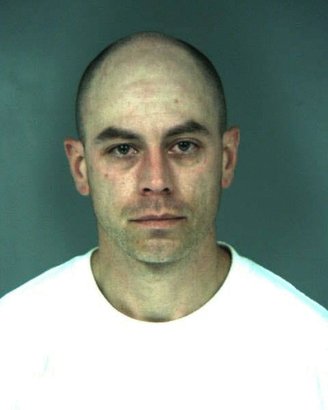 Giddings, 37, will first serve the 12 years, then begin serving the two life sentences for the murder of 38-year-old Trevor Mark Harrison, who was visiting his mother Kay Haug when Giddings killed him. Giddings, Robert Louis Huntzinger and marijuana broker Kimberly Steele were at Haug's Arcata home to show her marijuana they wanted to sell.

Witnesses said Giddings immediately pulled a gun, then shot Harrison because he was trying to stop Huntzinger from barging through the front door.
The jury that convicted Giddings acquitted Huntzinger of all charges. Steele, a potential key witness for the prosecution, could not be tracked down to testify. Although she came to the house with the two men, she was one of the people Giddings threatened with a gun.
Giddings appeared to be fighting back tears during the sentencing. But when he left the courtroom he smiled faintly and waved at two women in the audience.
Haug and her friend Demian Clearwater Starlight were in court, and afterward Haug said she's just happy it's over.
"And Trevor never had a gun," she said.
Only one witness said Harrison was armed, and that was Giddings himself. He testified he shot Harrison because he was pointing a gun at him.
This morning Deputy Public Defender Luke Brownfield asked the judge to run the assault charge sentence concurrently with the mandatory life sentences. He also requested a two-week delay in transporting Giddings to state prison, saying his mother recently suffered a stroke and would like to visit him before he's sent away..
But Deputy District Attorney Roger Rees said the sentences should run consecutively, and the longest term possible should be imposed for the charges of assault with a firearm.
"(Haug) is here and she is in support of the maximum sentence," Rees said. He said Giddings has a history of violence, and pointed out that he pulled a gun on someone during a marijuana transaction, then "proceeded to shoot that person when he tried to fight back."
Harrison was felled by one small-caliber bullet through the heart, and Huntzinger and Giddings left shortly after. Haug and Starlight went straight to disposing of many pounds of processed bud stored in a back bedroom. They testified that Huntzinger was in that room rummaging around after Harrison was shot. But one juror told the Outpost that jurors couldn't decide whether the mess in the room was caused by Huntzinger, or by Haug and Starlight frantically trying to get rid of the pot.
The victims of assault with a firearm are Haug, Starlight, Steele and Kenneth Eskridge, a friend of Haug's who was visiting her that night.
Reinholtsen advised Giddings today that he has the right to appeal his conviction and sentence, and any appeal must be filed within 60 days. He noted Giddings will probably remain in jail locally long enough for his mother to visit.
The sentencing was delayed two weeks ago because Giddings' family reportedly planned to hire Eureka attorney Ben Okin to handle the sentence and appeal process. That apparently did not happen, because Brownfield was there on his behalf today.
Huntzinger, although cleared in this case, remains in Humboldt County Correctional Facility on previous drug charges. He could still end up in state prison.
###
PREVIOUSLY: