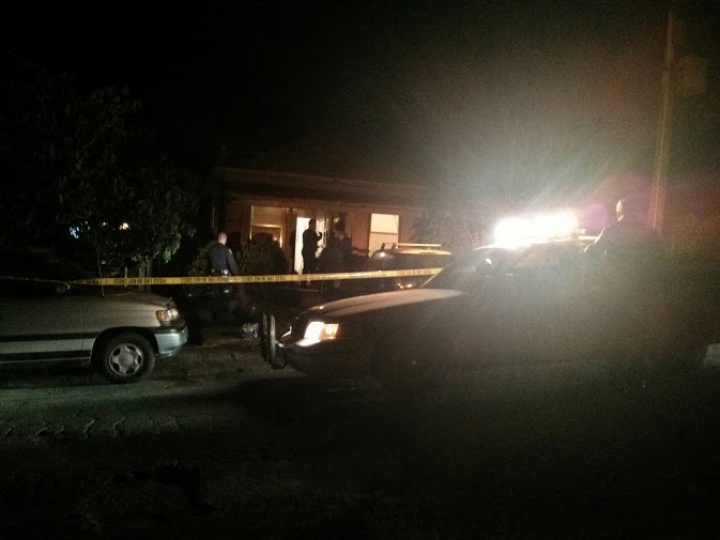 ###

PREVIOUSLY:
###
Before a bullet ended Trevor Mark Harrison's life, it was apparently being wrecked by methamphetamine.
"You could see it in his face," Harrison's mother Kay Haug testified today during the trial of the men accused of murdering Harrison two years ago. "His face was sinking in. He was having problems in his marriage … it was ruining his life."
Haug said she had seen her son under the influence of meth. He was agitated, irritated, "acting very quick." Under the influence, he "did unpredictable things," she said.
The issue for jurors hearing the case against murder suspects Billy Joe Giddings and Robert Louis Huntzinger is whether one of those unpredictable things was pointing a gun at Giddings before Giddings allegedly shot and killed him on May 9, 2015. Also, was Huntzinger aware that a robbery was in progress, and did he come into the house with his duffel bag to load it with stolen goods?
Harrison, 38, was visiting his mother at her home in Arcata when Kimberly Steele and Giddings showed up with a bag of marijuana trim to sell to Haug. Haug testified earlier that she had barely started looking at the trim when Giddings pulled a handgun and ordered everyone to get back and keep their heads down.
According to testimony from other witnesses, at the same time someone started trying to force their way through the front door. Harrison tried to keep the person out, and Giddings allegedly shot him in the process. All witnesses have said Harrison had no gun in his hand.
But Haug has acknowledged she did have a handgun stored in her bedroom. She says she passed the gun out the bedroom window to her caregiver Demian Starlight, while she also was handing him nearly 20 pounds of marijuana to hide in a nearby shed. All of this reportedly occurred within five minutes after Harrison was shot.
Haug said she had not seen her son use meth the day he was killed, but he admitted to her that he had taken Klonopin (an anti-anxiety drug). Rather than being agitated, Haug said Harrison was acting "kind of slow, not functioning well."
Harrison was shot during Steele's third visit that day to Haug's home on Eastern Avenue. Steele had been there twice before with Huntzinger, each time trying to sell marijuana that Haug rejected. Witnesses say it was Huntzinger who was trying to barge through the door when Giddings shot Harrison, and that he walked in carrying a duffel bag tucked under his arm. Haug says Huntzinger was also carrying a crowbar.
While Giddings held the people in the house at gunpoint, Huntzinger reportedly went to the back of the house and was heard opening and closing drawers and rummaging through things. He came out again with the duffel bag, and he and Giddings left. Haug said Giddings took her purse, which she hasn't seen since.
Haug says the only item missing from her bedroom was some marijuana "kief" that belonged to someone else and was stored in a box. Left behind were many pounds of marijuana stored in a wicker basket, Tupperware box and other containers in the room.
Haug also had thousands of dollars in cash kept in various bags. All of that was untouched, though it is unclear whether the weed and money were concealed well enough so as not to be easily spotted by someone in a hurry.
Haug was on the witness stand all day, much of that time answering defense attorneys' questions about her behavior after her son was shot. She has acknowledged she left her wounded son to Steele, who claimed to be a nurse and know CPR. Instead Haug and Starlight went to a back bedroom to get rid of the marijuana.
Today Haug admitted that when she came out of the bedroom and saw her friend Kenneth Eskridge calling 911, she said "Can you hang on a second?"
Haug also said she lied to police afterward. There were several reasons: She didn't want to be prosecuted, she wanted to protect her assets (the marijuana) and she was afraid of "Vicki," the marijuana broker who sent Steele and Huntzinger to her house.
Haug had started wondering, she said, about whether there was a connection between the robbery and killing and another incident the previous Thanksgiving Day. Two masked men came to her home with a gun, tricked their way into the house and seriously injured her caregiver Demian Starlight before fleeing.
Haug said she was worried that Vicki might have some connection to both incidents. That suggestion outraged Huntzinger's attorney Russ Clanton, who pointed out that Vicki had called the District Attorney's Office today to say she wanted to help Haug during the trial.
Haug also initially lied about having a gun, which Starlight's mother loaned her after the Thanksgiving Day invasion.
"We were trying to protect his mother, is what we were trying to do," she said. "The gun was unregistered."
Testimony is expected to continue tomorrow before Judge Dale Reinholtsen. The case is being prosecuted by Deputy District Attorney Roger Rees, with Deputy Public Defender Luke Brownfield representing Giddings.
###