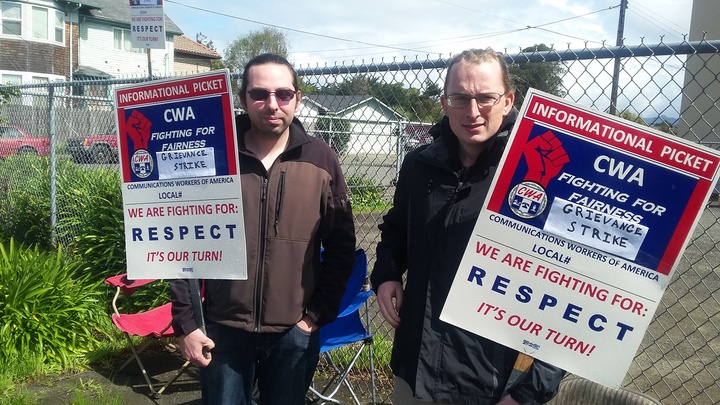 Humboldt County seems to have barely avoided a perfect storm of Internet catastrophe today, as the main AT&T fiber optic line dropped down into the roadway just as California and Nevada members of the Communications Workers of America went on strike this morning.
AT&T's fiber optic line went down across Avenue of the Giants at about 8:30 this morning, and the chaos that ensued as emergency personnel attempted to deal with the problem was captured on our CHPWatch page. At 9:10 a.m., as Caltrans shut down the road, CHP dispatchers attempted to contact AT&T's repair number but were sent to voicemail. Half an hour later they had gotten hold of someone, but were told that all workers were on strike.
At 10:16 a.m., dispatchers told AT&T that Caltrans was preparing to cut the line in order to reopen the road. A frantic AT&T manager — identified as "Jeff" — "strongly advised" against such an action, in the words of a dispatcher, as the line in question was the major north-south fiber optic trunk line, which is the sole route through which most AT&T customers get their phone, television and Internet service.
"Jeff" promised that a contractor had been contacted and was headed to the scene.
A fiber-optic breach at the location would have sent local AT&T customers into yet another of the widespread Internet outages that have taken down 911 services, ATM machines, credit cards readers and much of the rest of modern economy over the last 10 years, after this same line gets cut by fire or vandalism or backhoe.
Though the county's other large Internet provider — Suddenlink — has long since switched to redundant fiber connectivity via the east-west fiber trunk line that runs more or less along the Highway 36 corridor, AT&T continues to resist. When its north-south line goes down, customers get shut off, sometimes for upwards of a day. Such outages have struck Humboldt County at least four times in the last two years (see links below).
Though the situation seems to have been more or less resolved — a Caltrans spokesperson said that their agency's crews have cleared the scene, and a local AT&T manager affirmed this morning that a contractor was being dispatched to put the line back where it should be — the fiber breach, had it happened, couldn't have come at a worse time — 27,000 of the company's employees abandoned their posts for the picketlines this morning, including workers here in Humboldt County.
This afternoon at around lunchtime, two Eureka-based AT&T techs — Cory Portlock and Molly Gladding — were holding down the picket outside the AT&T building at the corner of Wabash and E streets while their colleagues got lunch. All told, they estimated, about 20 workers are picketing locally today, either at their location or at a company garage on Humboldt Hill.
Portlock and Gladding didn't have any idea when the strike would end — though "grievance strikes" such as this one usually only last a day, they said — and they weren't receiving any strike pay. Also, they said that the issues affecting AT&T workers in other areas, who were being asked to work outside their job description and payscale (see below) hadn't affected them, personally.
Still, they seemed happy to be out there on the line.
"I'm willing to support any union brothers and sisters who have grievances," Portlock said.
###
Press release from the Communications Workers of America below:
Seventeen thousand AT&T technicians and call center staff in California and Nevada went on a grievance strike Wednesday morning in protest of the company's illegal actions. The company has shown disrespect to the bargaining process by changing the work assignments of workers without bargaining as required by federal law. Further, AT&T reneged on an agreement to resolve the dispute without any explanation. The workers are represented by the Communications Workers of America (CWA).

As talks drag on to settle a new contract, AT&T has been violating the current terms and conditions of employment by forcing technicians on the West Coast to do work that is outside their areas of expertise and threatening their ability to deliver the best services for their customers.

"We are on strike today because AT&T is hurting us all by violating their bargaining obligations with the union. AT&T technicians work around the clock to make sure our customers get the high-quality service they need and depend on, and we are building AT&T's billions of dollars in profits," said Robinson Paiz, a maintenance splicer from Los Angeles who is on strike today and who has worked at AT&T for 17 years. "We don't want to let our customers down, but AT&T left us with no other choice. AT&T needs to get serious and honor its contract with us so we can keep servicing our customers."

Workers are on strike and picketing at AT&T call centers and offices throughout California and Nevada, with major picket lines in Los Angeles, San Diego and San Francisco.

CWA is filing an unfair labor charge with the National Labor Relations Board to protest these illegal changes.

The strike comes as the workers bargain with the company for a new contract and have been working without a contract for nearly a year. In addition, approximately 2,200 DIRECTV satellite and warehouse workers in California and Nevada joined CWA in April 2016 and are in negotiations with AT&T for a first contract. The workers are growing increasingly frustrated with the company's attempts to short-change California and Nevada working families and communities.

Nationwide, more than 21,000 AT&T wireless customer service and field workers are working under a contract extension that can be terminated with 72 hours' notice as they continue to bargain with the company. In the last week, wireless workers have intensified their calls on AT&T executives to end to offshoring and outsourcing and have joined rallies and pickets coast to coast demanding good jobs that support their families and quality customer service.

AT&T reported $41.8 billion in revenue for the fourth quarter of 2016 and has posted profits of more than $1 billion a month over the previous 12 months.

While AT&T is extremely profitable, the company has become disconnected from the day to day issues facing workers and customers. Despite the financial success, the company is asking its workers to do more for less — keeping them from their families with unpredictable overtime, undercutting pay and advancement, offshoring good jobs, and pushing more healthcare costs onto employees. At the same time, customers are paying increasingly higher bills to AT&T for essential services. The issues raised by AT&T workers are similar to those raised by Verizon workers earlier this year in a 45-day strike.
###
PREVIOUSLY: