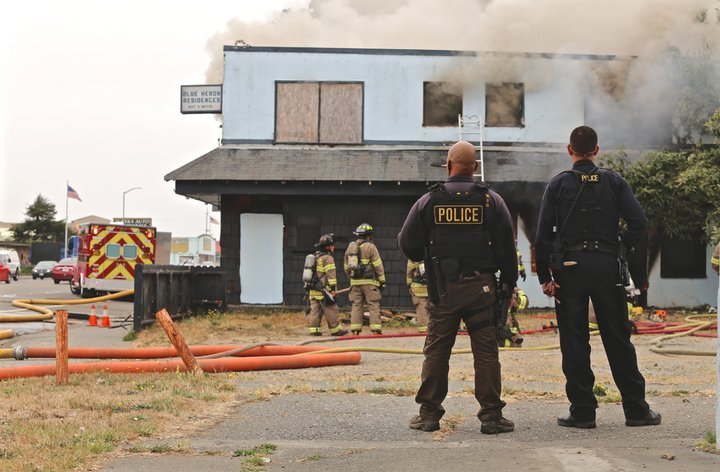 The Eureka woman who told police her friend Kattie Rae Yocum torched the former Blue Heron motel was held to answer today on felony charges of maliciously starting a fire and aiding and abetting Yocum.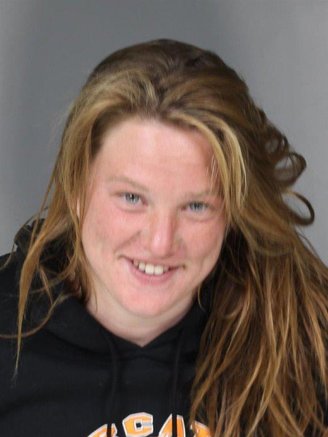 Desiree Mae Henley, who refused a plea offer and chose a preliminary hearing, was ordered to stand trial by visiting Judge Douglas Mewhinney.
Mewhinney said he based his ruling on the facts that a witness saw Henley and Yocum breaking into the former motel together, and after the fire was set both women were seen running away from the burning building, laughing. She aided Yocum, the judge said, because "by breaking into the motel she is helping Ms. Yocum succeed in setting the fire."
Yocum, who had an extensive criminal history, is serving two years in state prison after pleading guilty to unlawfully and recklessly starting the Aug. 21 blaze. The 25-year-old Henley faces a maximum term of six years, but her criminal history is minimal compared to Yocum's.
Deputy District Attorney Adrian Kamada called Eureka police Officers Heinrich Soltow and Wayne Rabang to testify against Henley today. Soltow, who also testified at Yocum's preliminary hearing, repeated his testimony that Henley told him Yocum was angry because building owner Floyd Squires reneged on a bargain.
"Ms. Yocum had given Mr. Squires oral sex in exchange for a promise of an apartment rental," Soltow said, "and that deal had fallen through."
Police had heard there was another woman, Courtney Garrett, in the motel at the time the fire started. Eight days after the blaze Officer Rabang interviewed Garrett, who told him she was at the Blue Heron on Aug. 21 to pick up some belongings. (The former motel was a popular campsite for transients.)
Garrett told Rabang she was standing in the doorway of the motel office when she heard banging noises, which turned out to be from Yocum and another woman breaking through a boarded-up entrance.
"Two females entered the motel, one of whom she recognized as Kattie," Rabang said.
"She said she wasn't paying much attention to what was going on until the office started filling up with smoke."
Garrett then saw the two women fleeing and laughing.
"She called out for help," Rabang said. "They ignored her and kept running away …. She was able to get most of her property out."
Under cross-examination by Deputy Conflict Counsel Marek Reavis, Rabang said Garrett told him Yocum was yelling about Squires owing her money.
"She did not see Ms. Henley start any fire?" Reavis asked.
"No, she did not."
Henley admitted to police she was with Yocum and saw her set the fire. Also, a couple driving on Broadway took a photograph of Yocum and Henley running, with the Blue Heron in the background billowing smoke. In the photo Henley appears to be holding up a shoe she's preparing to throw at the couple's car. During a reported exchange with them, Henley said "Don't you be taking pictures of us."
Reavis, arguing against holding Henley to answer, said the only evidence is "she just happened to be present."
He pointed out that Henley spoke openly to police, apparently has no grudge against Squires, and has a criminal history consisting of just three misdemeanors.
"All she did was run away from the fire," Reavis said.
Henley's arraignment on the charges is scheduled for Feb. 15. She remains in Humboldt County Correctional Facility.
PREVIOUSLY: