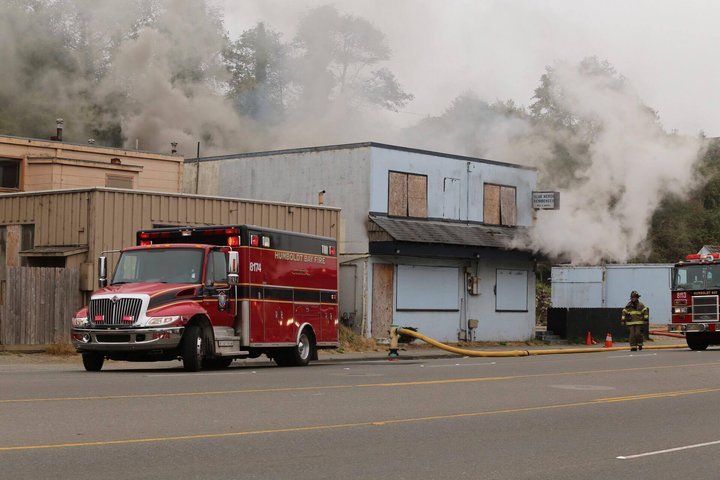 The Blue Heron's office on the day of the blaze | Andrew Goff
A Eureka woman has been sentenced to two years in state prison for setting a fire in the office of the now-demolished Blue Heron motel on Broadway.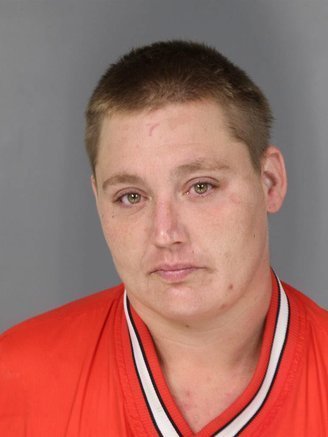 Judge Dale Reinholtsen imposed the sentence this morning on Kattie Rae Yocum, despite her attorney's pleas that Yocum needs treatment for drug-addiction and mental illness and is ready to turn her life around.
"It's not time to give up on Ms. Yocum," Deputy Public Defender Brie Bennett told the judge. "There's no benefit to society to put her in prison."
Yocum read a short statement to the judge expressing how sorry she is for her crime, and saying the time she's spent in jail "has been time like no other."
While behind bars for nearly five months, the 30-year-old Yocum participated in classes and programs in an effort to better herself. She has a history of crime going back to childhood.
"I'm very apologetic to the parties involved," she told Reinholtsen.
But Deputy District Attorney Joel Buckingham was skeptical.
"Now that she is looking at state prison," Buckingham said, "now she expresses remorse."
Buckingham said Yocum has been given plenty of chances to change her behavior, and it's time for the tolerance to end.
"It is time for her to go to state prison," he said.
The prosecutor said it's fortunate there wasn't more harm done. There was a woman in the office when Yocum, and allegedly her friend Desiree Mae Henley, set some debris on fire. Yocum and Henley then ran from the burning structure, leaving the third woman behind.
Yocum was originally charged with arson but pleaded guilty to the lesser charge of unlawfully causing a fire. Henley's prosecution is pending.
Reinholtsen could have sent Yocum to prison for three years but chose the middle term of two years. He said probation was not appropriate.
"I do think that it's significant the fire was started while someone was inside the building," he said, "and Ms. Yocum and the other person left."
Reinholtsen said there was also significant monetary damage.
"There was really no reason to start the fire," he noted, "except perhaps animosity toward the owner."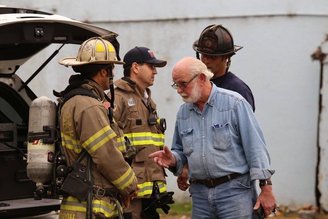 Apparently animosity toward the owner, local slumlord Floyd Squires, was the reason. A Eureka police officer testified during Yocum's preliminary hearing that Desiree Henley told him Yocum was angry because she and Squires made a deal: a blowjob for an apartment. She didn't get an apartment.
Reinholtsen also noted today that Yocum has been diagnosed with leukemia and has received no treatment.
He said he hopes that while she is in prison she will seek treatment "for what appears to be a relatively serious disease."
The judge said Yocum has done "positive things" while in custody and encouraged her to continue.
Yocum was given credit for 144 days actually served and 144 days "good time" credit, for a total of 288 days against her two-year prison term.
PREVIOUSLY: