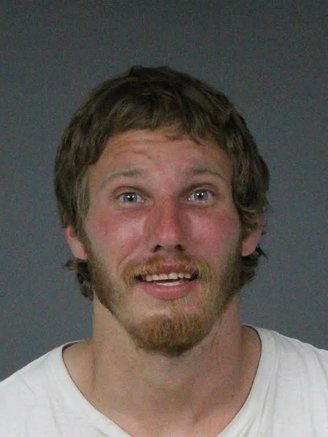 Murder suspect Zachary Cordell Harrison pleaded not guilty today to shooting 58-year-old Robert James Holtsclaw to death in September 2017.

Deputy Public Defender Luke Brownfield entered the plea on behalf of Harrison, 28. He is charged with first-degree murder and a special firearms allegation that can add 25 years to life to any prison term. The maximum penalty if he is convicted is two life terms.

Harrison agreed to give up his right to a preliminary hearing within 10 days of his arraignment. But after Deputy District Attorney Brent Kling requested the hearing be held within 30 days, Judge Christopher Wilson set it for the morning of July 17.
During the arraignment this afternoon, Harrison grinned at two women in the courtroom audience, then waved to them as he was being taken back to jail.
He was captured Wednesday in the Walmart parking lot in Eureka after managing to hide out in Southern Humboldt for about eight months. During the long manhunt, deputies failed to catch him - despite a couple of near-misses - but arrested a number of his friends who were wanted on warrants
Harrison allegedly shot and killed Holtsclaw as the older man sat in his truck on Sixth Street in Alderpoint. Holtsclaw's passenger ran from the scene and called authorities.
After the arraignment Brownfield, who already is handling four homicide cases, said he expects that Deputy Public Defender Brie Bennett will be assigned to represent Harrison.
PREVIOUSLY